XJ-3800-1 Ionic Multi-Function Hepa Air Purifier
RM 1,799.00
RM 1,268.00
---
* Automatic air quality control through odor and dust sensors
* Gigantic plasma dust collector that is easy to clean
* Multiple air intake vents effectively in purification coverage
* Large flow rapidly purifies indoor air
* High-performance HEPA filter services for no less than two years
* Effective filtration of particulars as small as 0.1~0.3 micron
* Excellent dust collection rate of up to 99.97%
* Effectively remove dust, odors and smoke
* UV germicidal technology to suppress growth of micro-organisms
Ship In :
3-5 working days
Warranty :
1 Years
Free Delivery
Free Installation (Klang Valley)
Questions? We can help
+6016 343 1031
Or Whatsapp us
MON–FRI: 8AM–6PM UTC+08:00
SAT: 9AM–5PM UTC+08:00
---
HEPA (HIGH EFFICIENCY PARTICULATE ARRESTOR) DUST COLLECTION TECHNOLOGY
The Air Purifier uses the tested and proven HEPA technology from Japan, to catch and trap harmful pollutants, which are otherwise known to cause serious health hazards.
HEPA FILTER WITH ANTI-BACTERIAL COATING
The HEPA filter comes with a special coating which eliminates bacteria from the air.
HIGH-EFFICIENCY REMOVAL OF PARTICULATE MATTER
The HEPA filter effectively removes 0.1 - 0.3 micron (Suspended Particulate Matter) present in the indoor air.
CARBON FILTER REMOVES ODORS
The Air Purifier employs specially treated activated carbon with a high grade adsorptive value which gives better adsorption properties for the odor/foul smell, Volatile Organic Compounds, Oxides of Sulphide and Nitrogen, Hydro-carbons, Cigarette smoke, dust, pet odor etc.
IMPROVE FRESHNESS OF AIR WITH INBUILT IONIZER.
The in-build ionizer ionizes air around making it fresher and leaving you with an elevated mood.
ionizer air purifier
INTELLIGENT AIR QUALITY MONITORING
The Air Purifier has inbuilt intelligent light sensors which continuously monitor the air quality in the room to adjust clean air flow in accordance to the air quality. The air quality is indicated by a glowing LED.
ozone air purifiers
SILENT OPERATION
The Air Purifier has an extremely silent operation.
USER-FRIENDLY FUNCTIONAL DESIGN, SAFE AND CONVENIENT FOR USE.
The Air Purifier has been elegantly crafted and is suitable for use at homes and offices. With pedestal mode of installation, it is extremely convenient to use and install . It has 8 hour timer function and three different speed levels for customized requirements.
HIGH PURIFYING CAPACITY, PURIFIES AIR IN THE ROOM INSTANTLY
With a CADR (Clean Air Delivery Rate) of 70 m sq/ min, The Air Purifier can instantly purify the indoor air .
Specifications
Air Volume
MAX 3.0 meter cube /min
Application Area
70 m sq
Dust Removal Rate
80% (0.3 Micron) 99.97% (1.0 Micron)
Ion Output
>2 x 10 x 5 /cm sq
Power Consumption
80 W
DIMENSIONS( mm)
343 (L) x 255 (W) x 610 (H)
WEIGHT
6.85 kg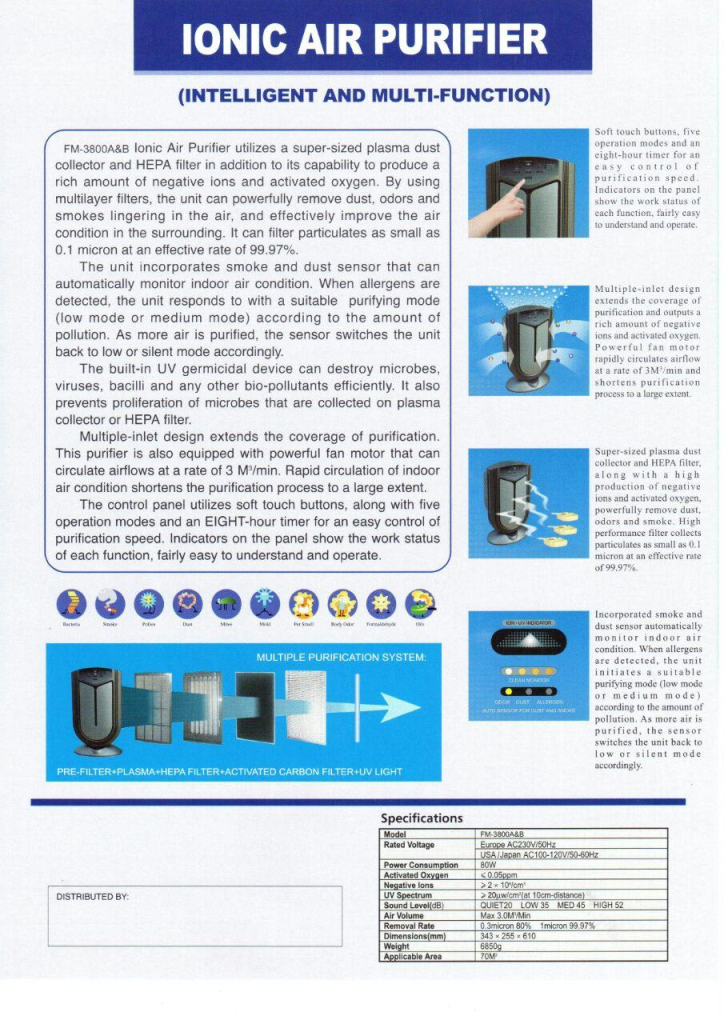 Available Date : 8/12/2016