W500C-4P 4 Pipe Hot and Cold Stainless Steel Water Cooler
RM 6,800.00
RM 5,380.00
---
Brand:
Taiwan
The Stainless Steel Water Cooler and Water Dispenser, ideal for industrial or public sites that requires heavy duty usage and large usage of water such as school,restaurant, cafe, or factory.
Ship In :
3-7 working days
Warranty :
1 Years
Free Delivery
Free Installation (Klang Valley)
Questions? We can help
+6016 343 1031
Or Whatsapp us
MON–FRI: 8AM–6PM UTC+08:00
SAT: 9AM–5PM UTC+08:00
---

Made of high grade stainless steel, you can choose from hot and cold model, or cold only model for your convenience.

The water is filtered via a single stage carbon filter to remove residual chlorine & organic chemicals, as well as get rid of bad taste & odors, thus making the filtered water taste better.
Specification
Model

W500C-(4P)

Type

Pipe-in & Floor Standing

Voltage

220v-240v / AC 50Hz

Heating Power

2400W

Cooling Power

250W

Hot Temperature

≥ = 100°C

Cold Temperature

≤ = 3°C

Water Tank Capacity

Hot = 17 Litres

Cold = 3.5 Litres

Dimension (mm)

L1000 x W352 x H960/1260

Filtration System

1st Stage = 10" 1 Micron PP Fibre

2nd Stage = 10" CTO Carbon Block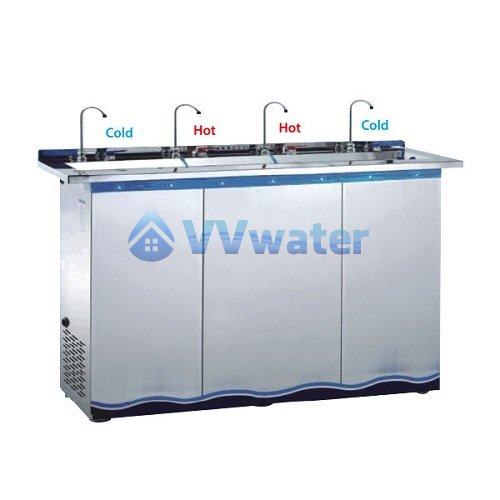 Available Date : 30/11/2016