T505 Alkaline Water Filter
RM 250.00
RM 188.00
---
Suitable use for water dispenser, all water filter system to change normal / natural water to alkaline water.
Ship In :
3-5 working days
Warranty :
1 Years
Free Delivery
Free Installation (Klang Valley)
Questions? We can help
+6016 343 1031
Or Whatsapp us
MON–FRI: 8AM–6PM UTC+08:00
SAT: 9AM–5PM UTC+08:00
---
DAILY INNER negative potential T505 alkaline filter can improve heart ~ acidic water, adjusting the constitution, restore function
Product function
Composite structure manufacturing filter applied nanotechnology to produce touch dissociation efficiency of coal principle, the negative potential and is ready to make drinking water alkaline hydroxide ions function.
Material
Dissociation of calcium and magnesium powder materials tend Nano, which can effectively be hydrolyzed from hydrogen ions and hydroxide ions.
Potential nano powders of potential material, with long-acting semiconductor properties, can assist the continuing role separation solution.
Base materials of sodium, potassium, magnesium calcium tend Nano body, after the slow-stripping, can improve drinking water alkaline.
The contact area of the molding material at high temperature sintered ceramic sheet body to manufacture rolled formed irregular surfaces, in order to enhance the flow of the material brittle and hard, can long withstand water pressure 250PSI following impact.
Function Description
Regulating physique
Maintain a balanced physiology
Medical experts generally recognized that a balanced diet and nutritional intake is the best way to maintain health status.
But in fact, most people high intake of acidic foods proportion, coupled with the rapid pace of life, life stress and other multiple factors, the body will gradually regions in acidic environment, resulting in an imbalance of physiological functions, increase incidence of chronic diseases.
Restore function
Superior efficacy to resist oxidation
Health Industry noted that research and development antioxidant, is the key to preventive medicine.
Reducing power is the so-called antioxidant capacity, is an important indicator of material to resist oxidation, can also protect human cells from free radical damage. According to the report, at least there are more than one hundred kinds of chronic diseases and aging symptoms, are incidental and free radicals.
Catalyst Technology
Focus on safety sophisticated filters
Use T-505 negative potential alkaline Filter material, is to take the composite structure filter nanometer process manufacturing to produce catalytic dissociation in the performance of the original, so that drinking water with negative potential, alkaline hydroxide ions and contains performance.
Used in T-505 negative potential alkaline Filter material, in full compliance of food grade management practices, has also completed the contents of heavy metals and a number of test product performance in other non-toxic impartial inspection bodies by the United States Food and Drug Administration of the test, on the effectiveness of the material terms of ingredients, safe drinking water are in line with the relevant specifications.
Products
◆ by the U.S. Food and Drug Administration approved the catalyst material, in line with international livelihood drinking water quality test.
◆ to ceramic body for infrastructure to vacuum sputtering process enables uniform distribution of catalyst materials, high temperature sintering, stable structural safety.
◆ hydrophilic catalyst using nano materials, the use of special physical properties to generate negative potential alkaline water, can be applied to distillation, reverse osmosis drinking water, no electricity, nor does the output of acidic water.
◆ have redox ability, can effectively eliminate free radicals, molecules of water, raw water due to dissociation of the dispersed and have high permeability and solubility characteristics, more suitable for everyday drinking.
◆ by double SGS, GMP food certification, the U.S. FDA inspection and certification.
◆ negative position -248.
◆ 4800 liters of filtered water (four families can use one year).
◆ length 26 cm, round Jing 5 cm, diameter 2 out of the water since the beginning of the tooth (1 / 4NPT)
◆ Origin: Taiwan
Installation
PH value can be improved drinking water, improve water quality acidic (make your RO reverse osmosis water into alkaline water with negative potential Oh!!)
In line with the modern emphasis on health and acid-base balance of quality concepts
This product is installed within a week darker taste for the new product line of natural phenomena, please drink at ease.
Safety Certification
Materials Safety ICP / OES Test
Certificate of Registeation
US FDA No: 16328666872
SGS Taiwan Ltd.
No.PX / 2006 / 6008302-6008303
Food Industry Development Research Institute Foundation No: 096SA01109-096SA0111
Pacakge content
1 x T505 ALKALINE WATER FILTER
FREE 2 UNITS 4MC4 joint CONNECTOR
FREE 1 METER TUBE HOSE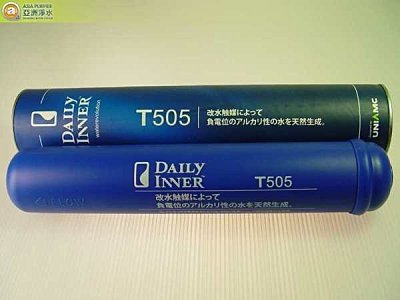 Available Date : 13/12/2016