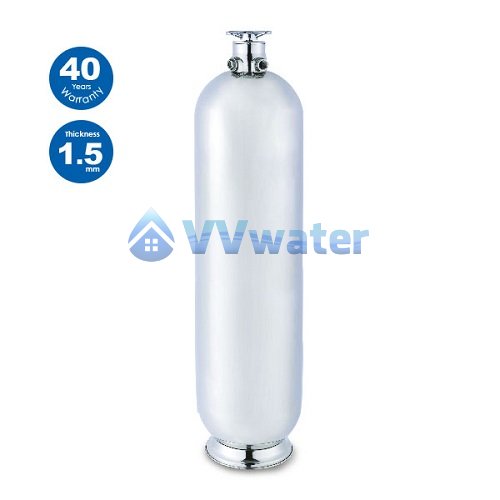 SS56A3 (Steering) Premium Stainless Steel Multi-Head Master Filter 12"42"
RM 2,580.00
RM 1,899.00
---
Recommendation to Landed Houses, Office, Condominium, Shop lot, Restaurant, Hotel, School, Mosque, Laboratory, Hospital, Commercial & Industries. Whole House Backwash Water System

Ship In :
3-5 working days
Warranty :
40 Years Waraanty
Free Delivery
Free Installation (Klang Valley)
Questions? We can help
+6016 343 1031
Or Whatsapp us
MON–FRI: 8AM–6PM UTC+08:00
SAT: 9AM–5PM UTC+08:00
---
Valve 100% Stainless Steel - 10 years warranty
100% SUS304 Stainless Steel body CW 1.5mm thickness
Well Filtering and Backwash System

Compact Design
Long last
Light & Easy Operation
40 years warranty on casing

Filter Media & Function of Multi Media Filter :-
Zeolite Plus (0.45mm) (Australia)
Zeolite has an unusual crystalline structure and with greater absorbing power, meanwhile also removes suspended solids, soluble heavy metals & soluble ammonium.



Anthracite (AN) (USA)
Anthracite absorption and high precision, can remove particles, colloidal impurities, suspended solids, or removing iron and manganese. While trapping the sediments, being the primary function of the carbon, it leaves some chlorine in the water.



Silica Sand (0.45mm)
Further trapping of very fine sediment at the surface of fine silicon sand.



Silica Sand (1.2mm)
Removes durts and prevent diseases such as Typhoid, Chlolera, Bihdryia & Amoeba.



Silica Sand (2.4mm)
Most ideal use in domestic & industrial water filtration due to high density and the high level of hardness and toughness. It is effecient for removing particles, sediments, mud and suspended solids in the water.
| | |
| --- | --- |
| 1242 Master Filter | 15mm Thickness Stainless Steel |
| Diameter | 12 inch |
| Height | 42 inch |
| Features | SUS304 Stainless Steel body with Food Grade Material |
| Valve Size | 3/4" |
| Working Pressure | 10 Bar |
| Working Temperature | 2˚C ~ 50˚C |
| Flow Rate | 1900 ~ 2200 ℓ/min |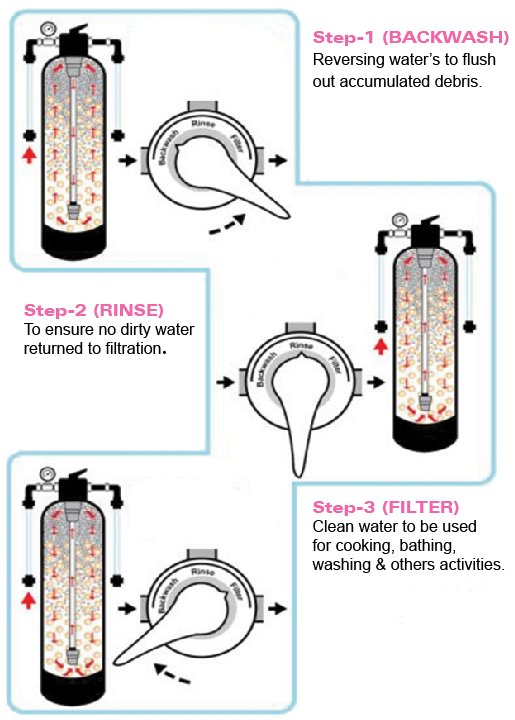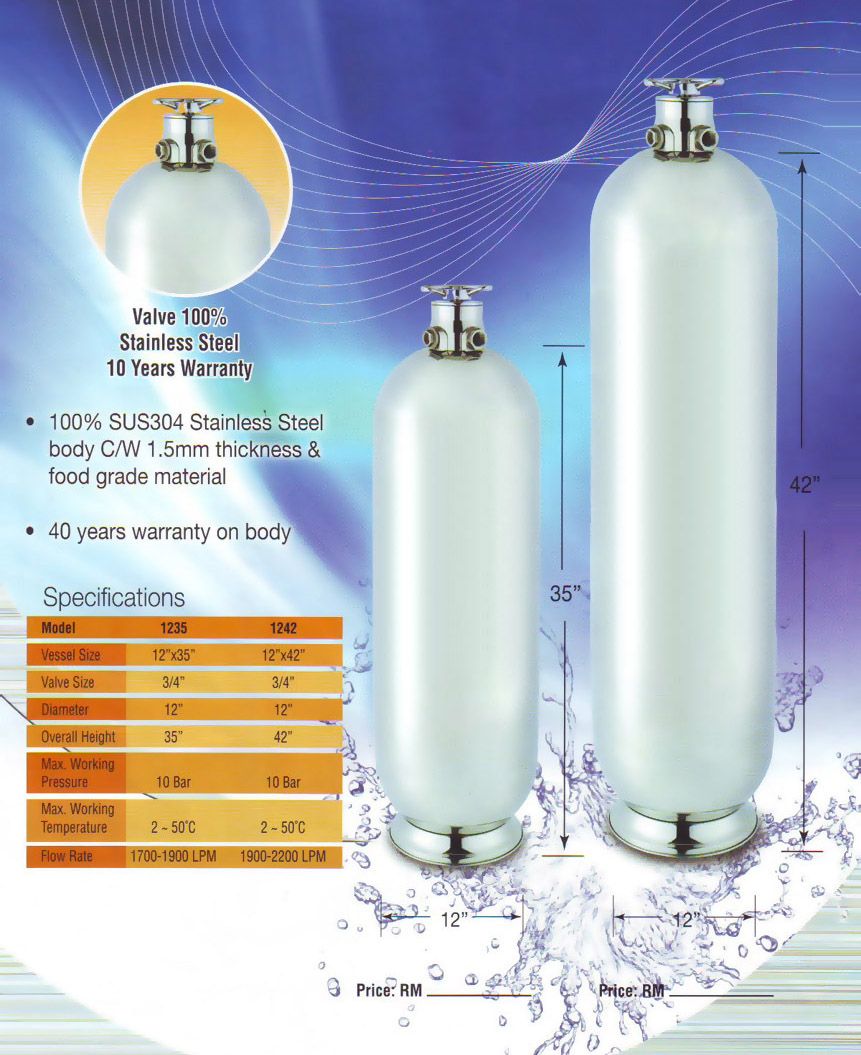 Available Date : 17/10/2016