RO-50GPD-904EZ-TW Taiwan RO Undersink Water Filter System
RM 1,799.00
RM 1,399.00
---
Brand:
Taiwan
Quality RO water for your every kitchen need. Drinking, Rinsing, Cooking



Ship In :
3-5 working days
Warranty :
1 Years
Free Delivery
Free Installation (Klang Valley)
Questions? We can help
+6016 343 1031
Or Whatsapp us
MON–FRI: 8AM–6PM UTC+08:00
SAT: 9AM–5PM UTC+08:00
---
Dauer RO system delivers high quality reverse osmosis drinking water at an affordable price. This complete 5-stage water filter system is made from high caliber components to offer exceptional contaminant rejection rates and long-lasting, reliable performance. Designed and built in the Taiwan. We are proud to offer this incredibly efficient and productive RO system that will provide you and your family with trouble-free, high quality drinking water for many years to come! The RO system comes with a one-year limited warranty. With our Sales & Support facility based in Singapore and Malaysia, Filken is committed to supporting its large customer base by stocking and supplying all replacement and service parts to ensure high performance and longevity.


System Overview and Specification
1st Stage: Sediment removal 5 micron 10 inch filter —removes dust, particles, and rust. Protects and extends the life of the membrane and system.
2nd Stage: Carbon block 10 micron 10 inch filter —gets rid of unpleasant chlorine, tastes, odors, cloudiness and colors. Also removes VOCs and other common chemicals from the water.
3rd Stage: Carbon block 10 micron 10 inch filter —gets rid of unpleasant chlorine, tastes, odors, cloudiness and colors. Also removes VOCs and other common chemicals from the water.
4th Stage: High Rejection TFC reverse osmosis membrane. Removes a wide variety of contaminants including arsenic, bacteria, chlorine, lead, fluoride, chromium, radium and more.
5th Stage: Coconut Shell Refining Carbon 10 inch filter —removes any possible residual taste from the tank.
Smart and automatic design shuts of system automatically when tank is full without wasting any water.
Treats all types of water including tap water, well water, hard and soft water at variable pressures and pH extremes.
Low maintenance – just change 3 pre-filters once every 6-12 months.
Industry standard design and parts offer system versatility, compatibility & upgradability.
Heavy-Duty, solid construction for many years of noise free operation
Do-It-Yourself (DIY) system design is easy to install, troubleshoot & maintain
Uses same filtration technology as bottled water companies and eliminates the need for bottled water, in return less plastic waste and pollution.
Top rated brand of Taiwan-Made, high performance reverse osmosis drinking water systems
5-Stage advanced water filtration system provides refreshing crisp taste superior to bottled water
50 GPD system removes up to 99% of chlorine, chemicals, heavy metals, bacteria & more
Built in with Taiwan high quality filters and parts to produce unlimited clean, great tasting water
Engineered for long-lasting dependable operation backed by manufacturer warranty & support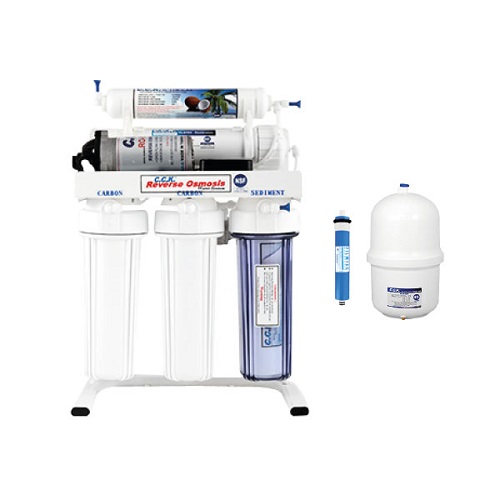 Available Date : 30/11/2016