Pentair 942Grey Pentair FRP Master Filtration System 09"42"
RM 899.00
RM 699.00
---
Brand:
USA
Model No :
Pentair FRP
Recommendation to Landed Houses, Office, Condominium, Shop lot, Restaurant, Hotel, School, Mosque, Laboratory, Hospital, Commercial & Industries. Whole House Backwash Water System.
Ship In :
3-5 working days
Warranty :
10 years
Free Delivery
Free Installation (Klang Valley)
Questions? We can help
+6016 343 1031
Or Whatsapp us
MON–FRI: 8AM–6PM UTC+08:00
SAT: 9AM–5PM UTC+08:00
---
About Pentair
Pentair Water Technology is a successful company with more than 40 years of experience in outdoor water filtration systems. As the leading water filtration systems company and one of the world's biggest company in water-processing equipment, Pentair demands extremely high qualities from its product lines.
Pentair Water Filtration System is fully-made in the USA with patents and certifications by the NSF, FDA and ISO9001. The system also comes with a 10-year of warranty, a strong indication of the company's confidence in its filtration systems.
A Reasons To Own
- FRP Pressure Vessel, Strength and Durability
- Made In USA
- 5 layers Filtration System, with backwash system
- PENTAIR Pressure Vessel
- Extends the life cycle of the drinking water purifier,water filter
- Standard polyester or chemical-resistant vinylester construction
Reinforced composite construction makes this tank one-third the weight of stell tanks and comparable in strenght
Tank construction of thermoplastic composite resin and wrapped in high-tensiite filament windings
High-strength polyethylene liner in thichness from 0.150" (3,8mm) to 0.3" (7.6mm)
Burst testing up to 4 times the rated operating pressure (100psi)
Cycle tested up to 250, 000 times (range: 10 to 100 psi)
NFS certification - This water softener pressure vessel is tested and certified by NSF against NSF/ANSI Standard 44 for material and structural integrity requirements only
10 years warranty in residential installations
Filter Media & Function of Multi Media Filter :-
Zeolite Plus (0.45mm) (Australia)
Zeolite has an unusual crystalline structure and with greater absorbing power, meanwhile also removes suspended solids, soluble heavy metals & soluble ammonium.



Anthracite (AN) (USA)
Anthracite absorption and high precision, can remove particles, colloidal impurities, suspended solids, or removing iron and manganese. While trapping the sediments, being the primary function of the carbon, it leaves some chlorine in the water.



Silica Sand (0.45mm)
Further trapping of very fine sediment at the surface of fine silicon sand.



Silica Sand (1.2mm)
Removes durts and prevent diseases such as Typhoid, Chlolera, Bihdryia & Amoeba.



Silica Sand (2.4mm)
Most ideal use in domestic & industrial water filtration due to high density and the high level of hardness and toughness. It is effecient for removing particles, sediments, mud and suspended solids in the water.
How Does it Work:
Step 1: Backwash: Turn the MPV to "Backwash" mode & let the sediment flushed out until the water appears clean. It takes about 5 - 10 minutes.
Step 2: Rinse:
Turn the MPV to "Rinse" mode to ensure the filter water is clean. Time of rinse is about 5 - 10 minutes.
Step 3: Filter:
Turn the MPV to "Filter" mode and the filter backwash system is complete & the filter is as good as new!
Pentair Sand Filter Specification
| | | | | | |
| --- | --- | --- | --- | --- | --- |
| Code | Size (Inches) | Flow Rate (Litres) | Max. Working Temperature | Max Working Pressure | Connections |
| 935-GREY | 9 x 35 | 32 | 110 F | 100 psi | 2.5" |
| 942-GREY | 9 x 42 | 39 | 110 F | 100 psi | 2.5" |
| 1044-GREY | 10 x 44 | 49.5 | 110 F | 100 psi | 2.5" |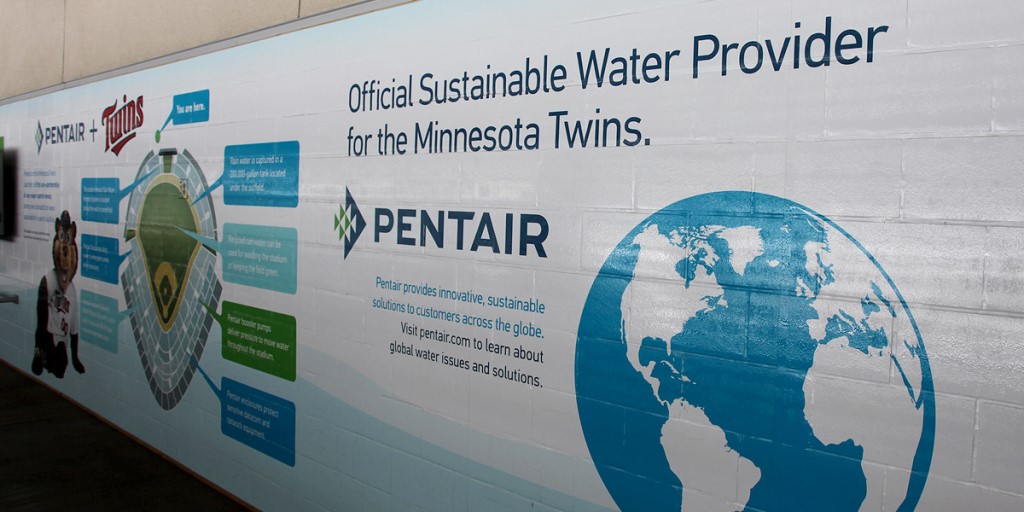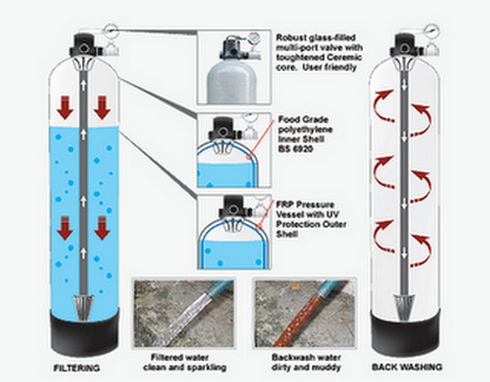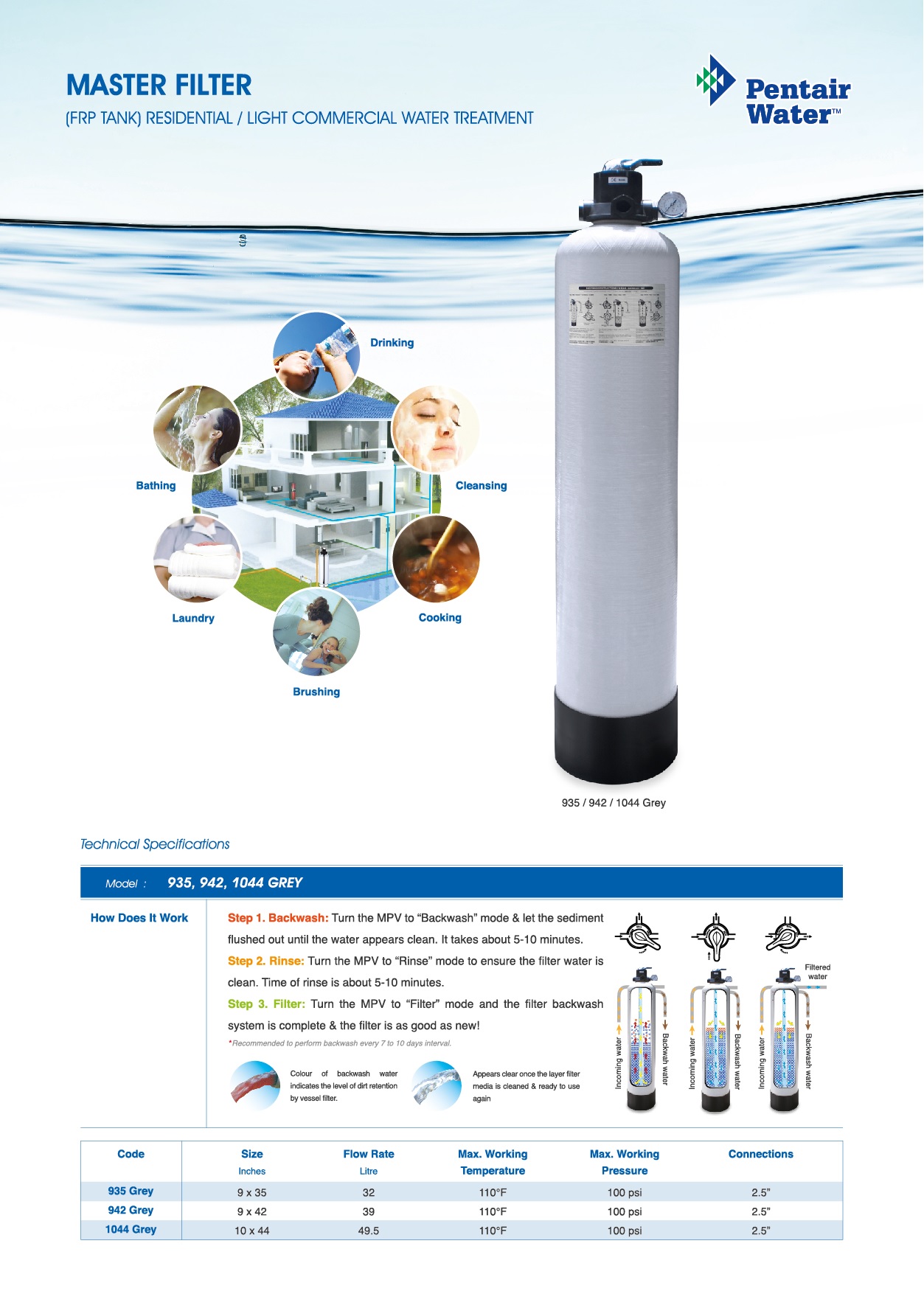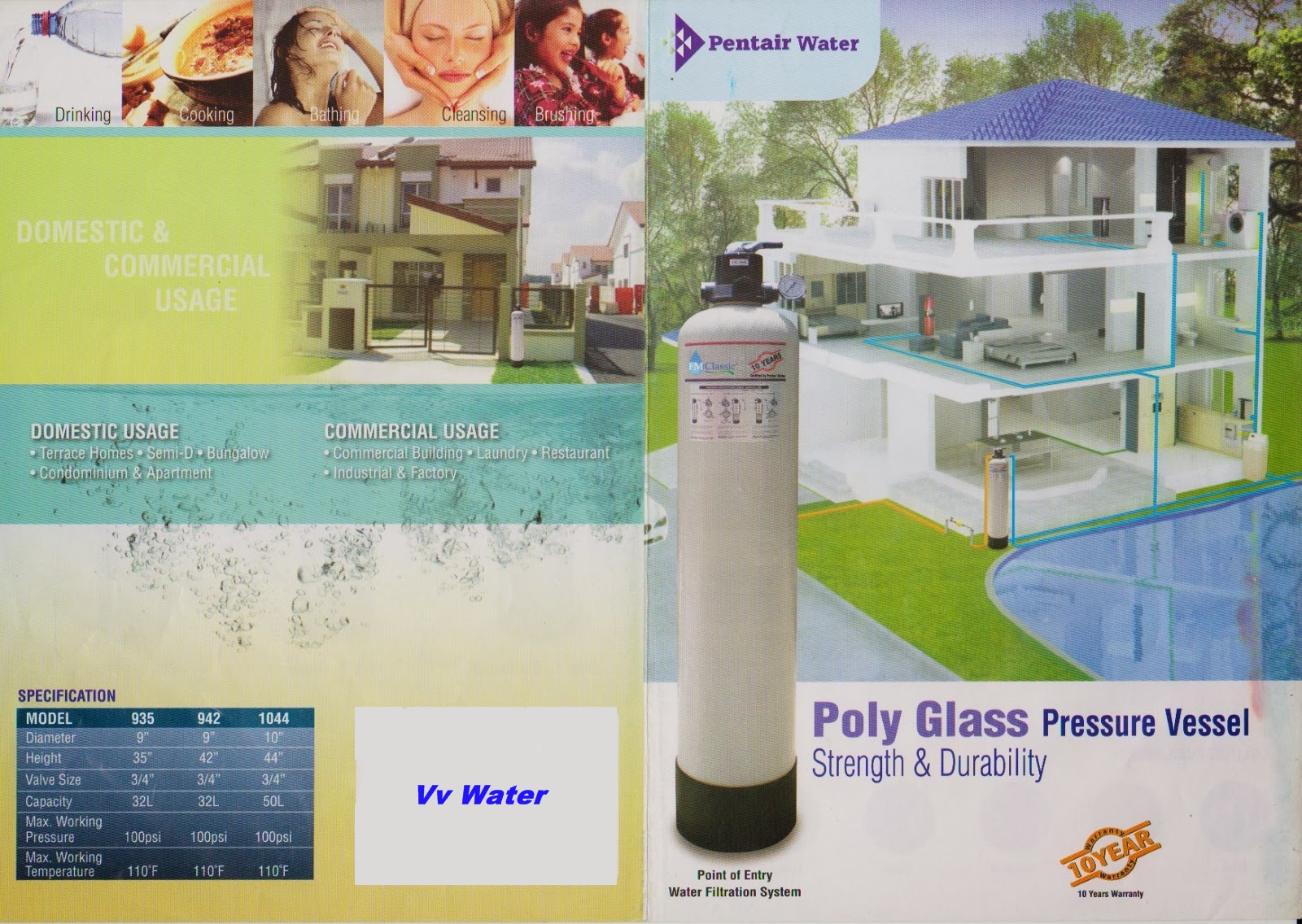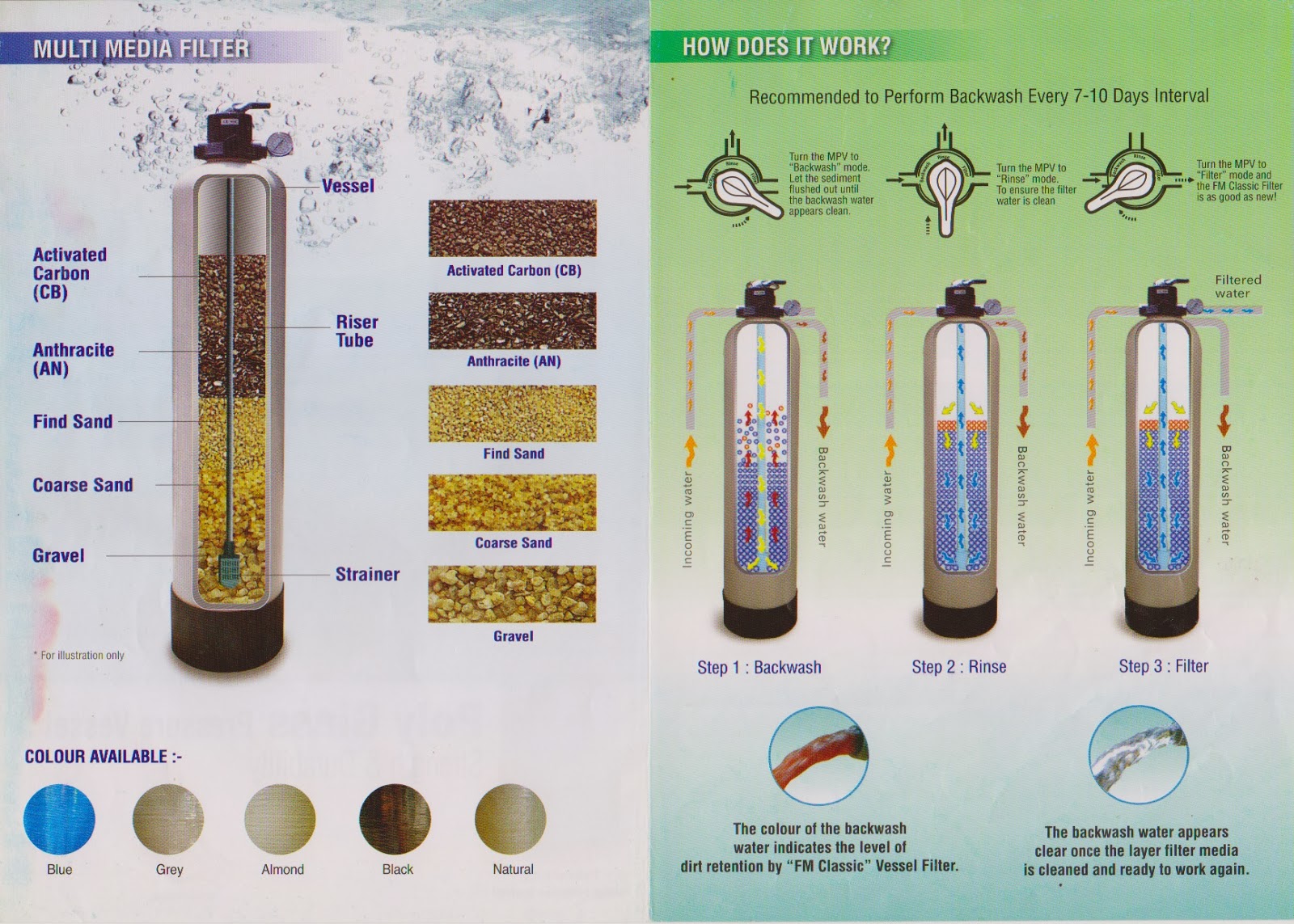 Backwash Every Month Result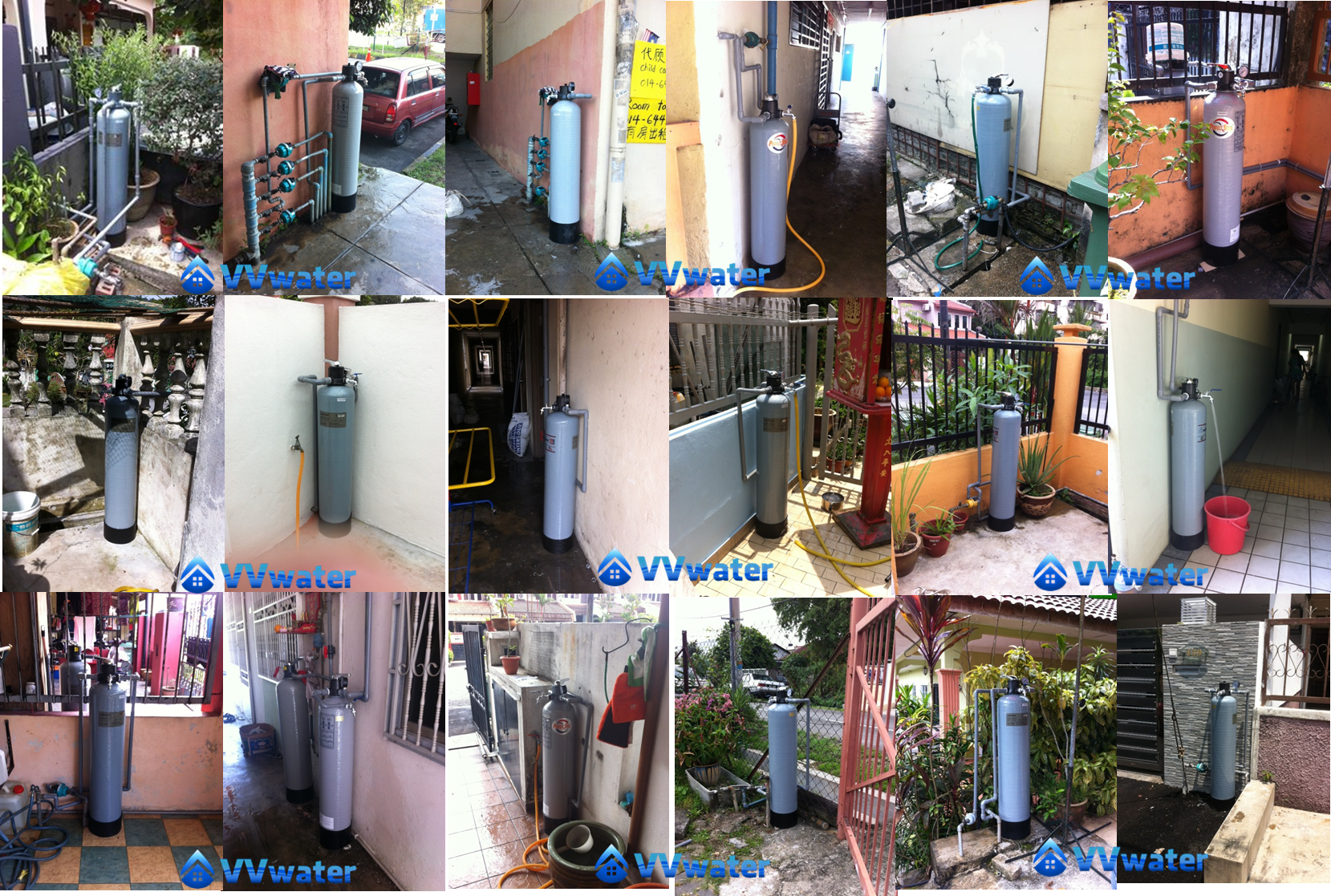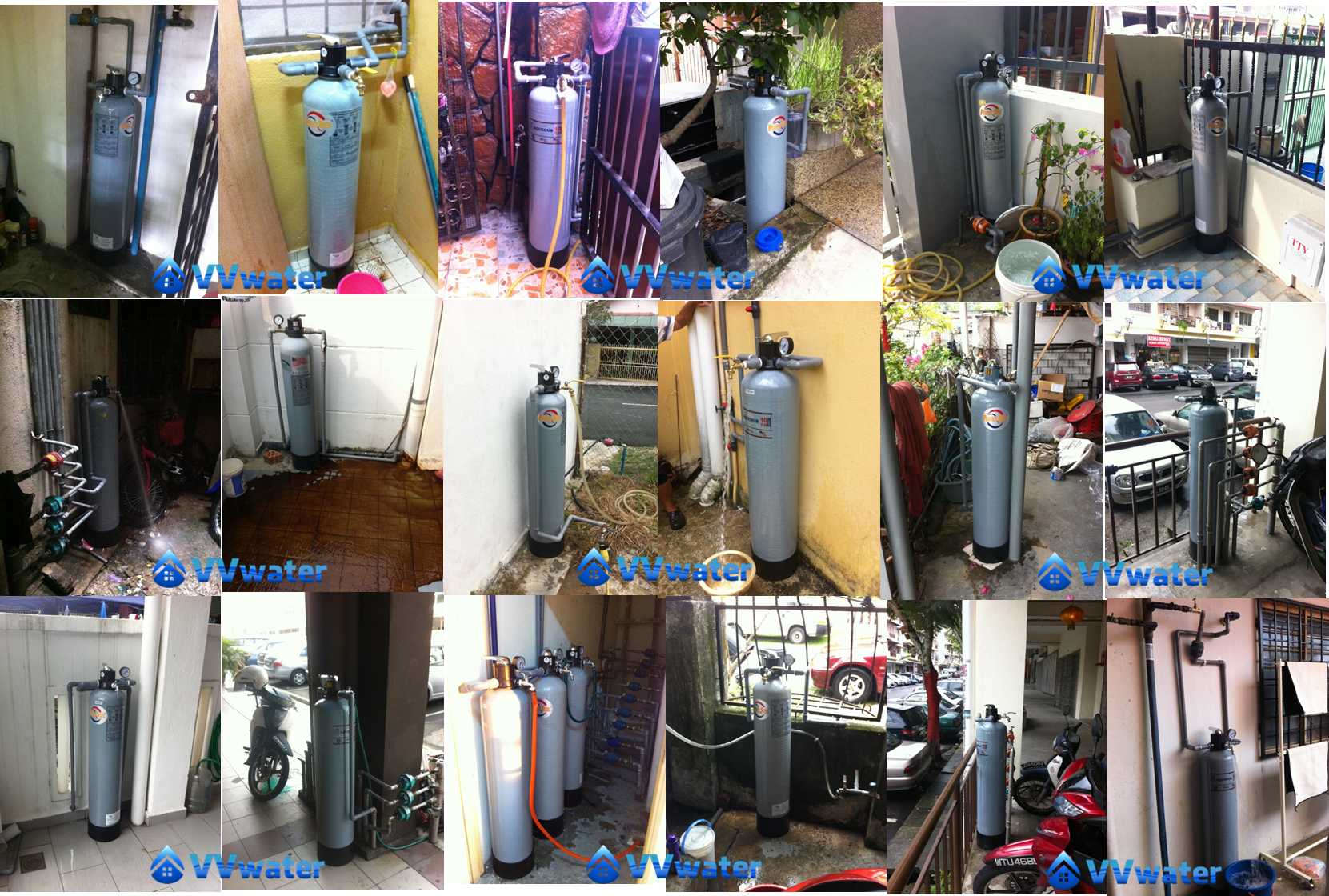 Available Date : 17/10/2016