Leveluk K8 Enagic Kangen Alkaline Water Ionizer
RM 18,980.00
---
Brand:
Kangen Japan
The Mighty 8-Plate Anti-Oxidizer
The Kangen® 8 is Enagic®'s most powerful antioxidant machine - featuring 8 platinum-dipped titanium plates for improved water ionization and increased antioxidant production potential. Enjoy this Kangen Water® machine in virtually any country, thanks to its worldwide multi-voltage power supply and interchangeable plug capability (sold separately). If you're looking for a powerful, versatile, feature-loaded machine, the Kangen® 8 is for you.
Ship In :
3-5 working days
Warranty :
5 Years Full
Free Delivery
Free Installation (Klang Valley)
Questions? We can help
+6016 343 1031
Or Whatsapp us
MON–FRI: 8AM–6PM UTC+08:00
SAT: 9AM–5PM UTC+08:00
---
8 Platinum-Plated Titanium Plates
Large Colour LCD Panel and 8-Language Voice Prompting
Touch Panel for Easy Operation
1 High Grade Filter
1 Cleaning Cartridge
Electrolysis Enhancer
Diverters
Smart Filter
Energy Saving
Multi Voltage Input for Global Use
Elegant White for Kitchen Match
Instruction Manuals
Produces 5 Types of Water:

Ionized Alkaline Drinking Water
Purified Neutral Water
Acidic Water (Beauty Water)
Strong Alkaline Water



Stop oxidation in its tracks! The Kangen K8 is an antioxidant machine, and with its 8 solid platinum-dipped titanium plates the Kangen K8 is able to produce water with a higher oxidation reduction potential (ORP) than any other water ionizer in the LeveLuk series!
The Kangen K8 comes with all the features of the SD 501, and in addition contains a multi-voltage power supply that allows your Kangen K8 to accept power sources all over the world.
Specification
Model name / number

Leveluk Kangen 8 / A26-00

Languages

8 Language Display & Audio

Water source connection

1-way diverter (TAP/ION) connects to the end of faucet

Power Supply

100-240V AC 50/6-Hz 2.6 - 1.1A

Worldwide Multi-Voltage Power Supply, with Interchangeable Plug Capability

Power consumption

Energy Saving - Low Input, High Output

Approx. 230W (under maximum electrolysis function)

System

Continuous Ionized Electrolysis Water Generator System (with built-in flow rate sensor)

Production rate (gallon(s)/minute)

Kangen Water®: 1.2-2.0

Acidic water: 0.4-0.7

Strong Acidic water: 0.16-0.3

Level Selections

Kangen Water® / 3 levels (approx. pH 8.5-9.5)

Clean water (pH 7)

Acidic water (approx. pH 5.5-6.5)

Strong Acidic water (approx. pH 2.4-2.7)

Strong Kangen water (approx. pH 11.0)

Electrolysis Capability (continuous use)

Approx. 30 min at normal room temperature

Cell cleaning method

10 Second Automatic Cleaning with On-Screen E-Cleaning Instructions

Applicable water quality and pressure

Municipally supplied drinking water: dynamic range in 50kpa - 500kpa

Electrolysis Enhancer

Forced dissolving type additive system (One time addition produces approx. 1.0-1.3 gallons of Strong Acidic water.)

Enhancer Refilling

Indicates by buzzer and LCD

Protector

Current Limiter/Voltage Stabilizer/Thermal Protection

Electrode material

Platinum coated Titanium

Electrode plates

8
Water Filtering
Filtering medium

Anti-bacterial Granular Activated Charcoal and Sulfurous Acidic Calcium

Residual chlorine removal

Total water flow: 1,500 gallons

Removal rate / JISS3201 Test: 80%

Initial chlorine removal

95% or greater

Elements not removable

Metallic ions and/or salinity present in original tap water

Time to exchange the filter

When the filter has treated 1500 gallons of water (depends on quality of original tap water)

Optional/replacement parts

F8 High grade water filter

Calcium Lactate: 3g x 12 packs/box

Electrolysis enhancer: 3 bottles of 0.93pt

Cleaning filter:E-Cleaner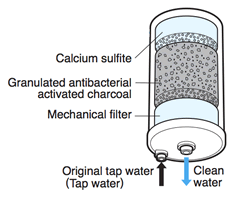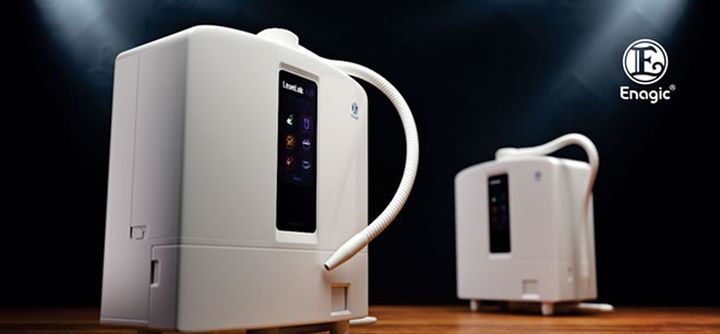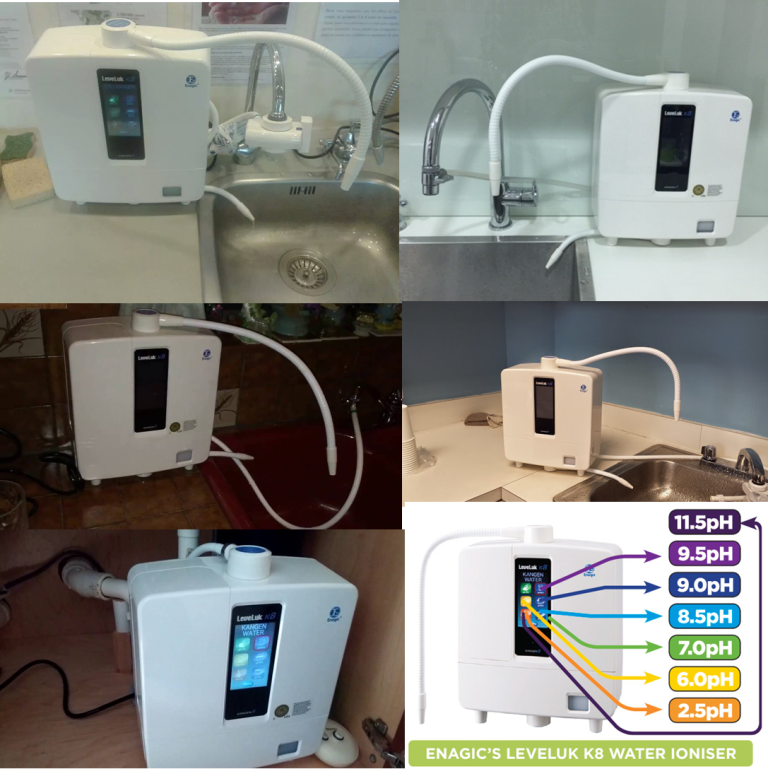 Available Date : 17/1/2017