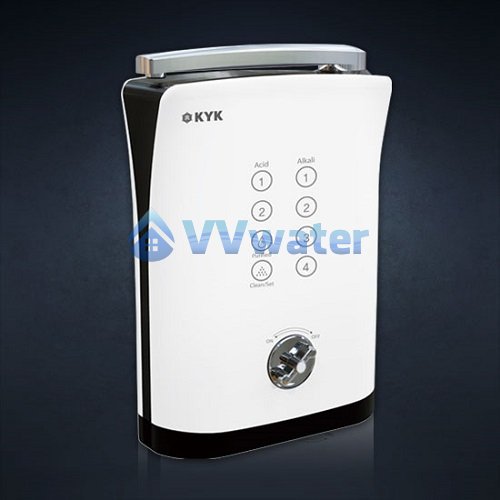 KYK Hisha Korea Alkaline Water Ionizer
RM 4,500.00
RM 3,680.00
---
Brand:
Korea
THE HISHA water ionizer with its 5 electrolytic plates is durable and offers a great range of alkaline and acidic ionized water: alkaline pH 8.5-10, and acidic pH 5.5-4
Ship In :
3-7 working days
Warranty :
1 Years
Free Delivery
Free Installation (Klang Valley)
Questions? We can help
+6016 343 1031
Or Whatsapp us
MON–FRI: 8AM–6PM UTC+08:00
SAT: 9AM–5PM UTC+08:00
---
KYK Water Ionizer most recently awarded the Most Trusted Brand in Korea is also the most awarded brand internationally - Korea, Europe and the US.
Named after the renowned scientist Dr Kim Young Kwi, who owns more than 130 patents, with 35 years of study on the science of water for human health, the KYK series offers both innovation and design, a mark of style, simplicity and luxury for our homes today.
The KYK HISHA is another excellent product from KYK's alkaline Water ionizer range.
Offers Relief with various health issues. Effectiveness is validated by MFDS (Ministry of Food and Drug Safety - a Government Department in South Korea) with:
Gastrointestinal infections
Abnormal fermentation
Indigestion
Chronic diarrhea
Excessive stomach acid
Body-acid related conditions such as arthritis, gout, pain, high blood pressure, inflammation
FUNCTIONS
Removes bacteria, rust, dust, chemicals, toxins, and other harmful substances from regular water
Inhibits bacteria growth in water
Produces delicious, purified, alkaline & antioxidant rich drinking water
Helps monitor water pH (alkaline-acid) levels
Delicious alive water with alkaline properties

FEATURES
Patented platinum-coated titanium electrode system
Newly developed high-performing ceramic valve system
High performance, high efficiency SMPS power control system with low heating and very little power loss
Easy water pressure adjustment
13 layers of advanced filtration and purification with 3 stage filtration process of 10, 5 & 1 micron filter

Increase antibiotic and antimicrobial performance
Maximized product lifetime
Automatic pH adjustment system
Automatic post-washing system for ultimate convenience and safety
7 water pH levels including 4 alkaline, 2 acidic, and 1 filtered water only
Filter life indicator
Easy ON/OFF switch
Counter-top

INCLUDES
KYK HISHA Water Ionizer
1 x Multi media Filter 3000 litres capacity
All necessary parts, such as power cord, 3m tubing, valves, tap connector kit
FREE water pH Testing Kit, for confidence and peace of mind
User Manual
Specifications
Weight

4.0kg

Filter life

3000 litres

Dimensions

Base Unit: 22 x 43 x 10m (WxHxD)

Base: 6cm (back to front), height: 26.5cm

Warranty

1 year Ionza full Warranty.
Installation
The HISHA can be connected:
1) Directly to your sink tap - DIY with supplied tap connector kit, see image above
2) or directly into the cold water line with the supplied Diverter Valve. Please note this option does require an Installer.

Available Date : 5/12/2016