KT3000 Alkaline Energy Water Filter System
RM 1,299.00
RM 799.00
---
Brand:
Taiwan
Quality Alkaline water for your every kitchen need. Drinking, Rinsing, Cooking. Water Purifiers & Filters

Dimensions ( L x W x H ) :
110 Millimeter x 330 Millimeter x 390 Millimeter
Ship In :
3-5 working days
Warranty :
1 Years
Free Delivery
Free Installation (Klang Valley)
Questions? We can help
+6016 343 1031
Or Whatsapp us
MON–FRI: 8AM–6PM UTC+08:00
SAT: 9AM–5PM UTC+08:00
---
Korea Antioxidant System
Alkaline and Energized Water
Easy Maintenance
Compact and Modern Design
No Electric, installation as easy as ABC
Clean and contains no harmful substances
Pure and safe that can consume directly
remove chlorine, organic chemicals and remaining residue from water
Latest Alkaline Water Generation technology! Powerful health-giving properties! Alkaline Hydrogen Water Filter Dissolved hydrogen is an excellent antioxidant because it readily donates its electrons to stabilize harmful free radicals. Since free radicals are one of the major causes of aging and getting rid of them is crucial for staying healthy, hydrogen-rich water is therefore incredibly valuable for fighting age-related, degenerative diseases.
Alkaline and hydrogen-rich with antioxidant properties
Mineralized to support total body health
Smaller water clusters for better cell absorption
Clean, safe and tasty water right from your tap! 6-Cartridges Water Filtration System That Transforms your Tap Water Into Hydrogen-Rich Alkaline Water The Mineral Composition Filter makes the water sweeter by infusing it with minerals. It also contains KDF to neutralize radioactive compounds, mercury and other heavy metals in the water. The Alkali Block Filter Specially blended mineral block that produces
Hydrogen-rich water
Alkaline water with pH between 8-10
Bio-available ionized minerals helps to further break down the water molecule clusters. The Ion Exchange Filter softens water for better taste and texture. The Mineral Composition Filter The Ceramic Filter removes micro-particulate contaminants, sludge and rust
Infuses energy into water through natural spiraling movement This rotation breaks water molecules down into smaller clusters, making them more absorbable
Sediment Filter
to remove infusible particles such as dust, rust
Pre-Carbon filter
uses granular activated carbon to purify the water by absorbing organic substances such as chlorine, heavy metal and odor
Silver Carbon
for better anti-bacterial function and high absorption function. This filter absorb ethylene dichloride, bleach, pesticide, chlorine, odor, harmful chemical materials and chloroform
Post Carbon Filter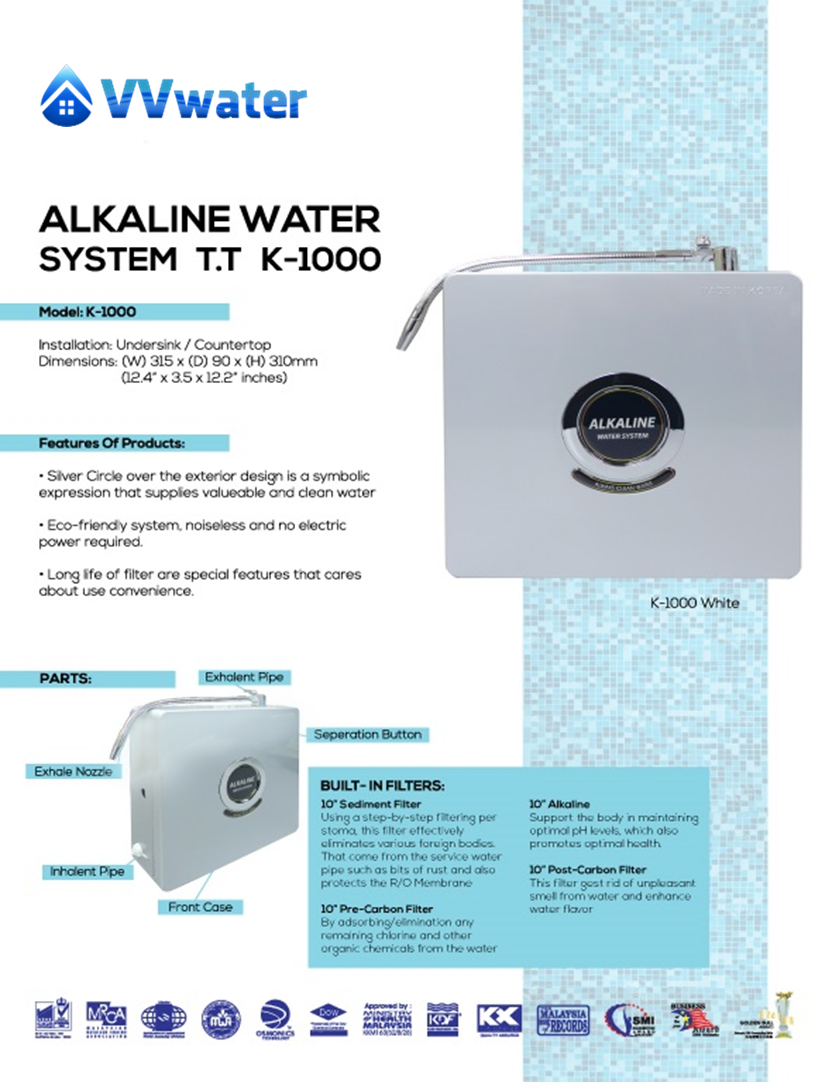 Available Date : 9/11/2016