K-3000B Energy Water Filter System
RM 899.00
RM 495.00
---
Brand:
Korea
Quality water for your every kitchen need. Drinking, Rinsing, Cooking. Water Purifiers & Filters

Ship In :
3-5 working days
Warranty :
1 Years
Free Delivery
Free Installation (Klang Valley)
Questions? We can help
+6016 343 1031
Or Whatsapp us
MON–FRI: 8AM–6PM UTC+08:00
SAT: 9AM–5PM UTC+08:00
---
Detoxify your body to remove normal acidic waste products accumulated daily
remove toxins accumulated in your body
Hydrate your body
effectively neutralize and block free-radical damage to the body
Alkaline water helps balance the body's pH
Enhance your immune system to maximize your body's ability to fight off disease and heal itself
Cleaner Water Straight from the Tap
It is estimated that VOCs (volatile organic chemicals) are present in one-fifth of the nation's water supplies. These contaminants can enter ground water from a variety of sources, including herbicide and pesticide runoff, gasoline or oil spills, leaking underground fuel tanks, disinfection byproducts, septic system cleaners, and chemicals used in the dry cleaning industry.
The Energy System keeps you safe from these and other VOCs with its 5-stage filtration, so you can turn on the tap with the assurance that you're getting cleaner, healthier drinking water.
Simple Operation for In-Home Convenience
Thanks to technological advances, the K-3000B 's sophisticated filtration process, which was commonly used only in municipal water treatment plants and hospitals, is now available for home use. The K-3000B is capable of running at low water pressures, and it won't alter the pH of your water. For added convenience, the filtration system doesn't require electricity or a separate holding tank.
The Importance of Drinking Clean Water
Water is critical to proper food digestion, kidney health, brain function, blood health, joint functionality, and more. It's important to make sure that the water you drink is devoid of contaminants. Thankfully, using a Watts water filtration device will ensure consistent quality for all of your drinking and cooking needs. In fact, when you use the high-quality certified water treatment devices and filters, your water will be free of chlorine taste and odors, particles, and many other contaminants that can be detrimental to your health.
6 Stage Filtration System

1. Ceramic Filter
Reduces harmful bacteria (E.Coli, Cholera, Shigella, Salmonella) and removes, algae, rust, sediment and suspended solids out of water.
2. Sediment Filter
Removing large particles dirt, dust scale, silt and unseen suspended matter. It eliminates impurity & pollutants with the size of over 1 micron in water.
3. Pre-Carbon Filter
Made from high quality purity activated charcoal with superior porous removes organic compound & chlorine, making water more natural. And removes heavy metals, radiation material, and chemical substance from agricultural.
4. Silver Carbon Filter
The Silver activated carbon filter inhibits the growth of bacteria within the filter media bed. And the additional of silver in the GAC of the filter has brilliant performance of ANTI-BACTERIA.
5. Alkaline Ball Filter
Alkaline ceramic ball is developed oN the basis of far infrared ceramic ball, it can breakdown bigger molecule group of water into smaller one to activate water. Eradiate more than 80%~85% FIR (far infrared ray), make water alkalinity, antibacterial and release mineral microelements. Long-term drinking water treated by alkaline ceramic ball, we can improve the body's resistance to harmful substances and natural cure.
6. Post- Carbon Filter
This Post-Carbon filter made of high purity activated charcoal with superior porous to eliminate off odor and coloring matters and chemical substance and to assist to maintain fresh water taste by removing all unpleasant gas content.
| | |
| --- | --- |
| Alkaline Energy Water Filter | Color Blank ( Translucent ) |
| Type | Alkaline Water with 6-Stage Filtration |
| Dimension ( mm ) | (W)320 x (H)398 x (D)104 |
| Installation | Counter-Top/Wall Hanging |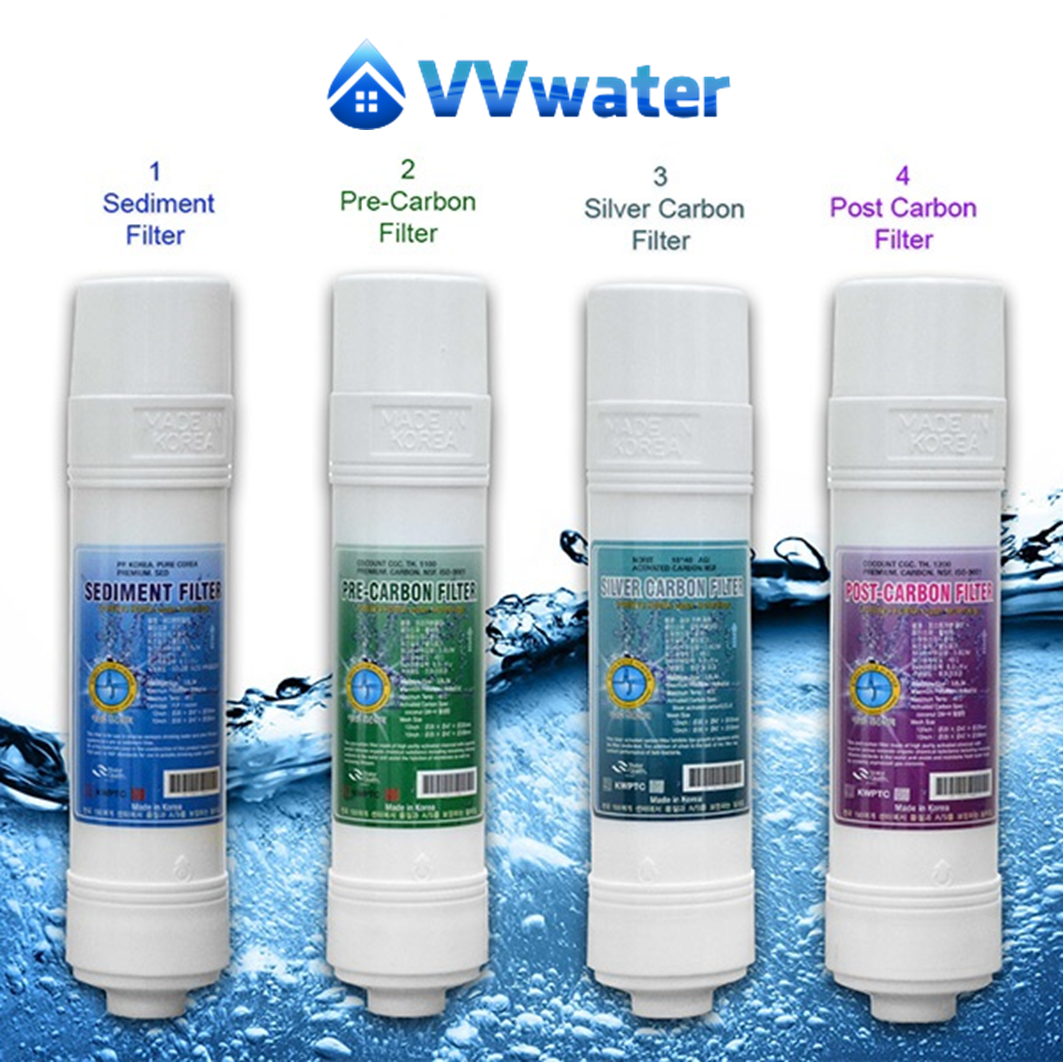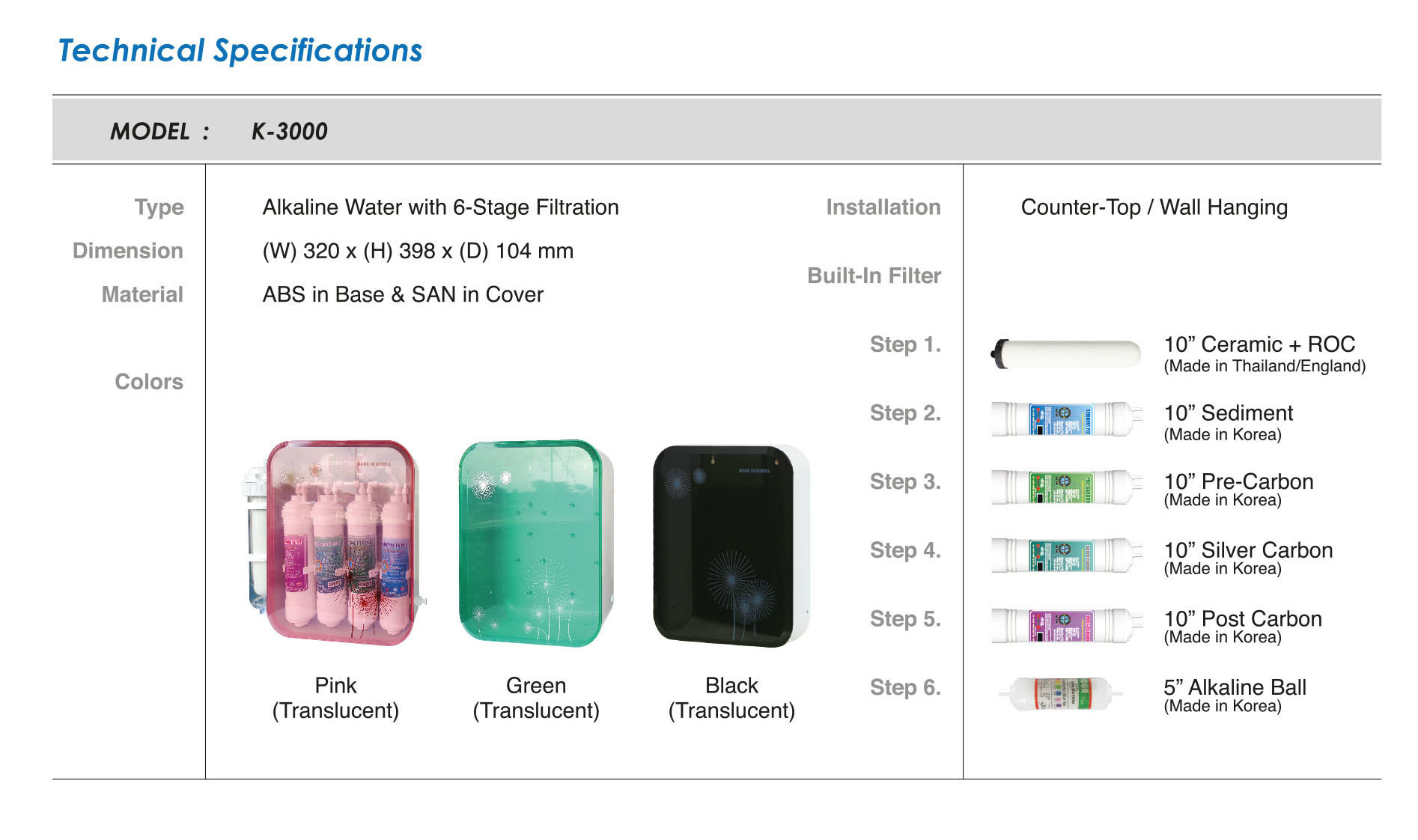 Available Date : 5/12/2016