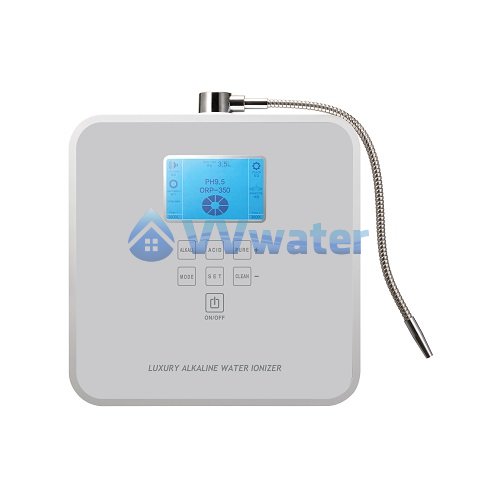 IONCARES 7000 Water Water Ionizer
RM 9,880.00
RM 7,480.00
---
Brand:
Korea
Ioncares ionizers generate alkaline water, acidic water and purified water. Using an electrolysis process, tap water is put through a purification filter to remove harmful substances. Ioncares ionizers create nine types of water in total - four stages of alkali water, four stages of acidic water and purified water.

Ship In :
3-5 working days
Warranty :
1 Years
Free Delivery
Free Installation (Klang Valley)
Questions? We can help
+6016 343 1031
Or Whatsapp us
MON–FRI: 8AM–6PM UTC+08:00
SAT: 9AM–5PM UTC+08:00
---
| Features |
| Key Functions |
(1) 5 inches large color LCD
Customers are able to distinguish the stage of alkali water that is being discharged at one glance.
(2) Touch-Sensor method
Ioncare series applied with touch sensor method making it user friendly.
All status in water ionizer is informed with a voice, making it user friendly for elderly and children.
(3) Application of High functional Two-Filter Method
It has been enhance the purification capability for reliable drinking water.
(4) Application of 250W SMPS Method
SMPS allow to improve the stability of power and to allow an accurate PH realization.
And the usage of 250W power enables the generation of High purity alkali water and the sustainability of alkali water after generation excels.
(5) Adjustments of current to 240 stages according to the water quality of raw water.
This performance and effects of this technology is outstanding in overseas market, such as China and Europe in particular where the PH degree of raw water is high.
(6) Usage of a seven layers electrode plates.
Majority of domestic water ionizers mainly use 3 or 5 layers which is used for 1-2 years,
Seven layers to extend lifespan with sustainability of high purity alkali water.
(7) Hygienic auto-cleansing and auto discharge system preventing pollution of germs
Ioncare series automatically clean the electrolyzer and discharge the remaining water, for resolving hygienic issues as well as expanding the lifespan of electrolyzer.
(8) Application of Original Recognition Chip of Filter
In the previous products, many of water ionizer functioned even with the usage of unverified filters, incurring a decline in the performance and lifespan of water ionizers, so customer dissatisfaction arose due to the uncertainty of filter performance.
Ioncare Series applied the original recognition chip of the filter enabling the customers to use reliable products.
| Specification |
items

specification

Model name

Ioncare 7000 (Ioncare 7000L)

Body

Dimension

340 x 340 x 147 mm (W x H x D)

Weight

Net: 6.25Kg (Gross: 6.94Kg)

Electrolysis

Device

Electrode

Platinum Coated Titanium

No. of electrode plates

7 plates

Electrolysis cleaning

Automatic cleaning (approx. 30 seconds)

Filter

Replacement

Cartridge type (pair type)

Lifespan

1st filter: 3,500L, 2nd filter: 3,500L

Lifespan indication

Indication on LCD

Components

Three-layered sediment filter, granular activated carbon, calcium sulfite, tourmaline ceramic ball

Water Supply Method

Direct connection to tap water

Generating Capacity

2.5 ± 0.5 L /min

Electrolysis step

Alkaline water: 4 stages / Acid water: 4stages

Allowable Water Pressure

1.5 ~ 5.0 kgf/

Allowable Water temperature

5 ~ 40℃

Input Voltage

AC 110-240V / 50-60Hz

Power Consumption

150VA

SMPS Power

250W (150W for Ioncare 7000L)
Ioncare 9000 is the ONLY water ionizer that has whole 9 plates (titanium) instead of the usual 5 or 7. Ioncares
9000 with 9 titanium plates will ensure stable pH and ORP values under all conditions. The ionized water from
this machine is very helpful in improving major stomach troubles such as chronic diarrhea, indigestion, abnormal
fermentation within stomach and hyper-acidity.
The device is designed to be placed on the kitchen table or be hung on the wall. It has two filters for purifying water
prior to release to the electrolysis chamber. Filter capacity 3,500 liters
The device can produce both alkaline water, acid water or just pure neutral water. Manufacturer approx. 1.2 liters per minute.
Includes necessary equipment, hoses, connectors and other for connection to the tap. As well as a pH test kit.
Uses for Alkaline Ionized Water (Drink)
-Absorbing, dissolving and heat conducting benefits.
Drinking : Drink 2-cups of Ionized Alkaline Water first thing in the morning. It is important to include vegetables in your diet. Eating substantial amounts of acidic food such as egg yolk, white rice, chicken, pork and beef may be part of your diet. Drinking Ionized Alkaline Water is equally important because it balances the acidic and Alkaline effects of these foods.
Food Preparation : Clean vegetables and fish. Enhance the flavor of broccoli, onions, etc. by pre-boiling them in Ionized Alkaline Water. Use less condiments and salt in your diet.
Rice : Use Ionized Alkaline Water for washing and cooking rice. The result is delicious and fluffy rice.
Tea : Taste and aroma are everything to many people. You will be surprised at the improved color, taste, and aroma. You can use less tea and still achieve a full rich taste.
Soups and Stews : Ionized Alkaline Water draws out the flavor of ingredients so they get tender and juicy. Therefore, less seasoning such as salt and soy sauce are needed. This water is good for people who want to reduce their salt intake.
Plants : Watering plants and flowers. Ionized Alkaline Water extends the freshness and life of plants. Ionized Alkaline Water with a pH level of 9.0 can also restore the health of sick plants. Ionized Alkaline Water stimulates germination and improves seeding development.
Animals : Your animal's health will improve dramatically. Unpleasant body order will decrease, as well as the odor of feces and urine.
Crafts : Excellent for dyeing cloths, as well as other craft projects. You will love the vibrant colors obtained when using this water.
Health : Through continuous use, the acidic tendency of your body can be gradually corrected to an Alkaline levels. Drink at least half your body weight in ounces in order to gradually change an acidic level to a slightly Alkaline one.
Colon cleansing : Warm the water to body temperature and use the colon cleansing unit to remove accumulated debris and waste.
Other Uses : One theory is that this water reduces free radicals. Recently, this water has been acclaimed as "Free Radical Water". It slows down aging and stabilizes body temperature.
Highly Ionized Alkaline Water : pH 11.0+
Highly Ionized Alkaline Water preserves hygiene in our daily life due to its strong cleaning effect.
Food Preparation : Wash Vegetables and fruit.
Cleaning : Clean cutting boards with. Good for cleaning oil and tough grime from vents, as well as for general cleaning in the kitchen.
Stain Removal : The extra strength, absorption power will remove coffee, soy sauce and oil stains with ease. Also great for getting out stubborn toilet bowl stains.
Dishes : Use less detergent when hand washing dishes. Save on water bills, as only one-third to one-forth of the usual amount of water is adequate cleaning and for rinsing with detergent.
Uses for Acidic Water (Wash)
acidic_water
pH Water : 4.0-6.0
Face wash
Hair Care
Bath Water
Pet Care
Rinse Cycle
Cooking beans
Fried Food
Frozen food
Stains
Dishes
Polishing
House Cleaning
When the Acid button is pressed, Acid water will be dispensed from the top spout and Alkaline water will be dispensed from the bottom spout.
Uses for Purified Water (Drink for baby)
clean_water
pH Water : 7.0
Free of chlorine, rust and cloudiness. Clean water is delicious drinking water.
Children : Use purified water a pH of 7.0 when preparing baby food.
When the purify button is pressed, purified water will be dispensed from the bottom and top spouts.
| Certification |


Available Date : 7/1/2017