Doulton Ultracarb Ceramic Filter Candle + 1 Ctc Casing
RM 338.00
RM 168.00
---
The Doulton Ultracarb ceramic filter with Ctc casing special as a Pre-filter for water filter system, water dispenser and water ionizer.
Ship In :
3-5 working days
Free Delivery
Questions? We can help
+6016 343 1031
Or Whatsapp us
MON–FRI: 8AM–6PM UTC+08:00
SAT: 9AM–5PM UTC+08:00
---
The Doulton UltraCarb Ceramic Filter Candle is a self-sterilizing filter with submicron filtration at an economical cost!
The UltraCarb is NSF Standard 42 & 53 Tested and Certified for the Reduction of:
taste & odor
chlorine 97%
particulate Class I
Cysts (Cryptosporidium & Giardia) 99.99%
Turbidity 99.69%
Lead 98.3%
Bacteria (E.Coli, Cholera, Shigella, Salmonella) 99%
UltraCarb Specifications
600 Gallon Capacity
.5 GPM Flow Rate
.9 micron filtration 99.99%
The Doulton UltraCarb features ultra carbon, is silver impregnated, and has a carbon block + metallic media core. This Ceramic Filter is certified by NSF and the WHO.
What's in the box
1 x Ceramic Filter 1 x Transparent CTC Casing 1 x Connector
Stages of Filtration:
First stage: The first stage consists of Doulton ultracarb ceramic which provides genuine sub-micron filtration. The cartridge reduces fine particulate matter, bacteria, cysts and turbidity.
Second stage: The incorporation of silver locked within the ceramic structure gives enhanced bacteriostatic and self sterilizing properties, preventing the growth of bacteria.
Third stage: An inner core of activated carbon block removes chlorine and organic compounds.
Fourth stage: Ion exchange resin reduces lead and other heavy metals.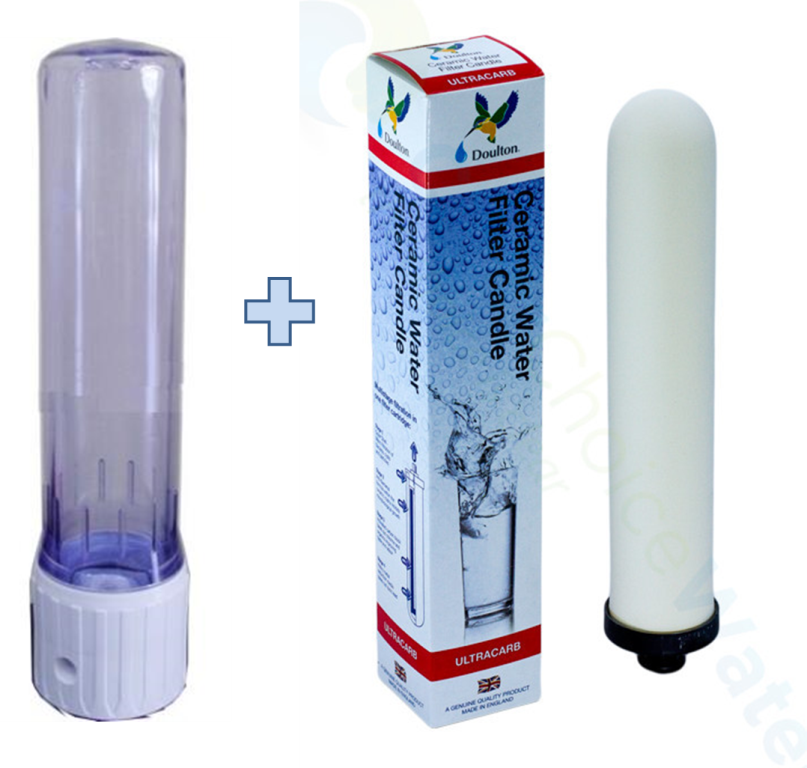 Available Date : 16/12/2016