CF-FLM Dow Filmtec 50GPD Reverse Osmosis Membrane
RM 290.00
RM 180.00
---
Ship In : 3-5 working days
Warranty : 1 Years


Free Delivery
Free Installation (Klang Valley)

Questions? We can help
+6016 343 1031
Or Whatsapp us
MON–FRI: 8AM–6PM UTC+08:00
SAT: 9AM–5PM UTC+08:00
---
DOW FILMTEC™ Genuine RO
Dow is pleased to announce the launch of the next generation of DOW FILMTEC™ residential reverse osmosis elements.
The ability to consistently produce identical, high quality products time and again means DOW FILMTEC elements offer customers some of the most reliable elements available in the industry today.
How to tell if you have a genuine DOW FILMTEC™ Residential RO element
DOW FILMTEC is the most recognized reverse osmosis brand globally available today. Such popularity encourages imitation and, as a result, a number of look-alike brands have emerged in an attempt to mislead customers. Let us help you confirm that you have purchased a genuine DOW FILMTEC element.
Element Enhancements — New Permeate/Feed Tube Ends
• Traditional white permeate tube
• Shorter permeate tube end
• Longer feed tube end
• GPD marking on feed tube end
• Classic-style brine seal with white tape
• Active areas similar to classic design
Look for these genuine DOW FILMTEC label characteristics: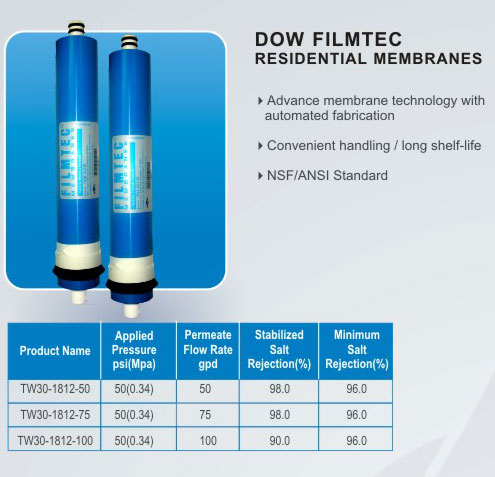 Available Date : 5/12/2016