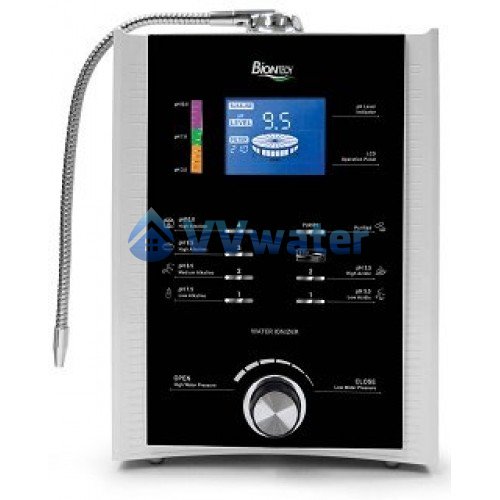 BTM-207D Korea 7-Plates Alkaline Water Ionizer
RM 6,999.00
RM 5,299.00
---
Brand:
Korea
The Btm water ionizer with its 7 electrolytic plates is durable and offers a great range of alkaline and acidic ionized water: alkaline pH 8.5-10.5, and acidic pH 5.5-3.5
Dimensions ( L x W x H ) :
140 Millimeter x 240 Millimeter x 360 Millimeter
Ship In :
3-7 working days
Warranty :
1 Years
Free Delivery
Free Installation (Klang Valley)
Questions? We can help
+6016 343 1031
Or Whatsapp us
MON–FRI: 8AM–6PM UTC+08:00
SAT: 9AM–5PM UTC+08:00
---


This water ionizer BTM 207D is a premium water ionizer with 5 micron pre-filter with 6 stages of filtration for water ultra filtered, tasty and very healthy.
Model water ionizer BTM 207D is equipped with 7 platinum coated titanium plates (through a patented method). It is manufactured in South Korea, the largest and most awarded manufacturer with GMP standard . This will give you water ionizer alkaline water ionizer and the highest quality, so that the filtration and ionization.
Product Detail
Brand name

Biontech

Model

BTM-207D 7 PLATES

Type

Water ionizer (Counter top)

Use

Faucet-Mounted

Certification

CE, EMC, UL, ISO9001, ISO14001

Power (W)

150W

Voltage(V)

120 or 220~240v

Place of origin

GYEONGGI-DO, SOUTH KOREA

Dimension

240x360x140 (WxHxD)mm

Electrodes

5 Plates (Platinized Titanium)

Water Supply Method

Direct Connection to Tap Water

Water Pressure

0.7 ~ 6.0 kgf/cm2

Protection Devices

2 Built-in Temp. Sensors

Generating Capacity

Standard. 1.5ℓ/min at 2.0 kgf/cm2

Max. 5.5ℓ/min at 3.3 kgf/cm2

Cleaning Method

Real Time Cleaning [ About 30 sec. every 10ℓ use (Drain: 0.2ℓ) ]

Setting

Alkaline water (4 levels)

Purifier water, acidic water (1 level)

Filter Lifetime

3,000ℓ

Filter Media

Multi-Layers (PP Plane Filter, Calcium Sulfite, Granular, Activated Carbon, UF Membrane)

PH Value

pH 3.5 (+1.0) ~ 10.5 (±0.5)

Voice Recognition

Yes

Display Method

Negative LCD

Display Control Method

Full Screen (Letter and Image)

On/OFF Valve Method

Solenoid
Manufacturer Info
No.1 ULTIMATE ALKALINE WATER IONIZER (PREMINUM TWO FILTERS)
KOREA MARKET SHARE No.1
KOREA BRAND POWER No.1
27YEARS OF EXPERIENCED
EXPORTING TO 30 COUNTRIES
BTM 207D water ionizer advantages
• ORP (redox potential) lower than -500 mV (mean less -501, -502 etc.)
ORP water acts as a natural antioxidant and its value is more negative the more, the better it is for the body. Using pure titanium platinum advanced material produced by new technology and the only team to BIONTECH leads to getting a stronger negative ORP water passing through the ionizer
• Displaying the use of the filter and the period of change
The water flow is detected accurately with a digital circuit flow sensor and internal life of the filter is continuously displayed on an LCD screen. Notification filter change is made audible and phone numbers by displaying the producer.
• Automatic adjustment for optimal levels of pH
The BTM 207D water ionizer produce ionized water ultra filtered by automatically adjusting for obtaining optimal levels of pH, the water source auto diagnosticul changes.'
• Flow control system in real time
Optimal flow rate is important for optimum performance of hydrogen. Because of the real-time flow control that includes an LCD display and a valve opening, you can set the desired level easy and accurate to use.
• self-regulation
With this function the power can be adjusted to the optimum level to get water rich in hydrogen, every time you use the ionizer
• Advanced filter with Nano silver
The principal material of the filter - activated carbon - silver was added to increase the power of sterilization and inhibiting bacterial growth. An alkaline water cleaner and purified is produced by an excellent ultrafiltration process.
• Features self-cleaning and self-draining
• Genuine recognition system filter
During installation, system recognition of filter will either approve the internal filter ionizer Biontech or will display an error to inform the user of improper installation and the actions that must follow.
• Artificially intelligent sensor system
Self-diagnosis system based on RISC semiconductor circuit provides notification of errors caused by incorrect use of the ionizer messages displayed on the LCD.
• One-touch selection (one touch)
Operating touch technology is represented by symbols for each ionized water level desired, the control panel of the main body of the ionizer.
The distinctive features of electrolysis BIONTECH
• Using pure titanium (AnalloyednTi''Pure''50A)
• 99.99% platinum coating. Coating method - DSE 0.6 microns
• Embossing effect obtained by sanding surface electrodes
• Strong resistance to corrosion and consistency capacity electrolytic
• Water Molecule small
• PH and ORP values of high purity p
H mechanism for generating PWM (pulse width modulation) - patent no. 66 229
BIONTECH is the leading manufacturer of water ionizers with standard medical in South Korea
• Research and development center ultramodern R & D in which it invests each year 10% of profit
• It owns GMP standard, ISO 9001 and 14000, FDA and KFDA.
• ONLY use approved materials of the highest quality.
• 2 factories with an ionization potential of 1,000,000 / year
• many inventions and patents registered
• He received numerous awards including "Best Hit Product", "Best Brand Korea", "2014 Small & Medium Enterprises Quality Award" and many others.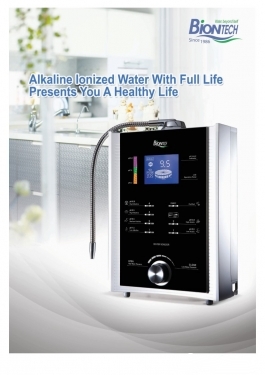 Available Date : 17/11/2016