Aqua PV-PE 844 Italy High Quality Anti UV Outdoor Water Filter PV-PE 0844
RM 2,380.00
RM 1,880.00
---
Brand:
Italy
Recommendation to Landed Houses, Office, Condominium, Shop lot, Restaurant, Hotel, School, Mosque, Laboratory, Hospital, Commercial & Industries. Whole House Backwash Water System

Ship In :
3-5 working days
Warranty :
10 years
Free Delivery
Free Installation (Klang Valley)
Questions? We can help
+6016 343 1031
Or Whatsapp us
MON–FRI: 8AM–6PM UTC+08:00
SAT: 9AM–5PM UTC+08:00
---
Made In Italy
Shell Polyethylene - Inlet Thread:Noryl
Outer smooth surface
Moulded inlet thread mechanically and
chemically bonded to the vessel
Guarantees against weathering and corrosion

Slim and compact, with heavy duty design
High precision manufacturing
Non-toxic recyclable material(PE)
High chemical resistance
Unbeatable stress / crack resistance
Quick Sand as main media for filtration
Advance Backwash Valve – Only one step
Colour – Standard Black
Max Operating Pressure – 8 bar
Filter Casing – Refined Fibre Reinforce Plastic Material
Diameter & Height: 8" Diameter x 44" Heigh
Why is outdoor filter is important?
We use water on a daily basis for drinking, cooking, shower, brushing teeth and we might not be aware that we are actually putting our family at risk.
Due to aging rusty pipes, treated water still contains sediments and rust that can be harmful to our body.
Installing an outdoor filter or "Point of Entry Filtration" is the first step to to take care of your family health.
Simple and Economical Backwash System
With the effective back wash, you can thoroughly clean the internal filters in just 10 seconds and reuse them continuously for life. You no longer need to spend extra time and money to replace filter-cartridges.



With such easy maintenance, FRP 0844 can be thoroughly cleaned regularly, thereby reducing the risk of any built-up in bacteria that often occurs in conventional overused filters.
5 Micron Filtration
PV-PE FRP 0844 is designed to keep out all sediment and rust from your water system and using 3 types of sand as filter media
Quick Sand 0.3mm
– Remove impurities from 5 – 10 microns
Fine Silica Sand
– A bed of finely graded Silica Sand removes sand, sediments,
Coarse Silica Sand
– The coarse sand acts as support for the other media components and it also increases the exposure time thus enhancing the filter's effectiveness.
Sand Media can be customized according to customer needs, for example Activated Carbon can be added in to reduce chlorine and removing unpleasant odours. Removing all chlorine is strongly not recommended.
10 Years Warranty
Made of quality imported material from Italy, our FRP0844 high- strength fiberglass exterior can withstand up to 8 bar of pressure. It is built for heavy-duty use and guarantees against weathering and corrosion.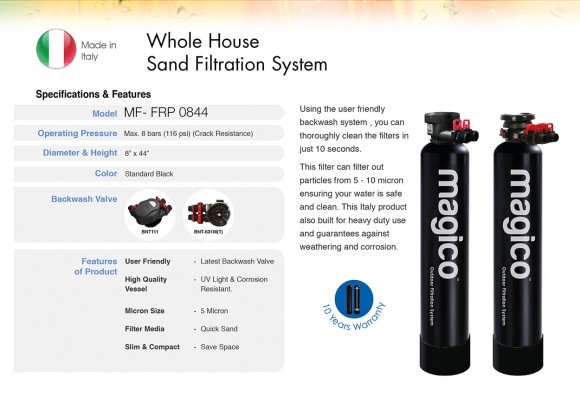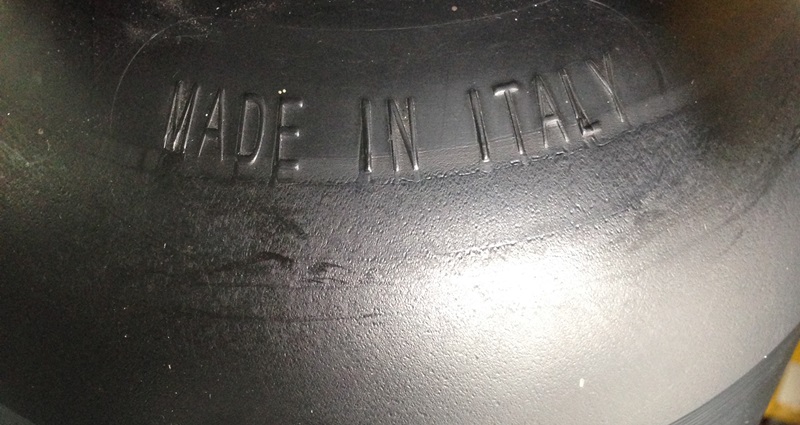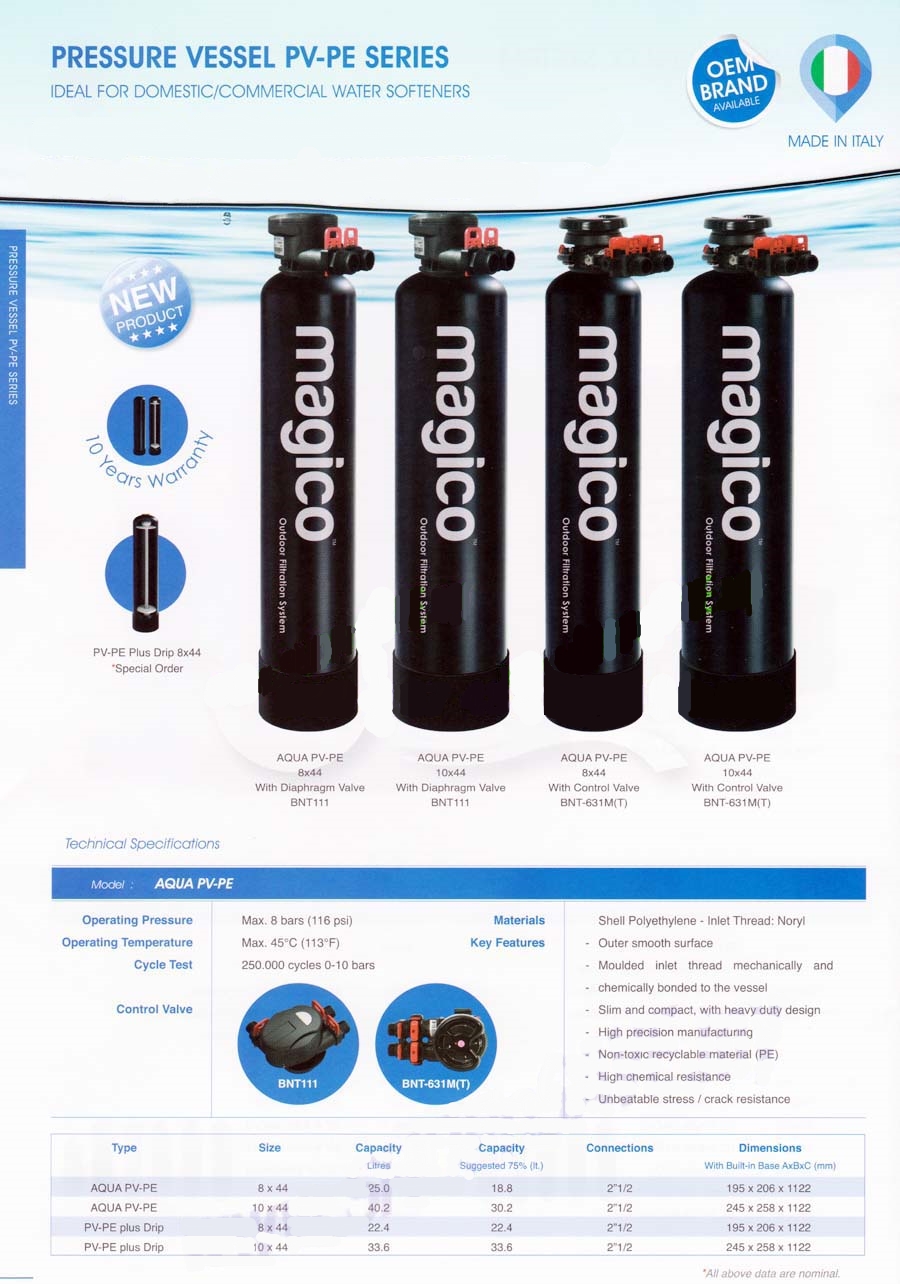 Available Date : 17/10/2016