Anespa / ANSP-01 Enagic Anespa Mineral Ion Water Spa
RM 9,000.00
---
Brand:
Kangen Japan
Your home spa system
The ANESPA removes chlorine from your shower and bath water. Its dual cartridge system contains therapeutic ingredients that have a relaxing hot spring effect. The water is broken down into smaller clusters which makes it easier for your body to absorb the healthy and clean ANESPA water.
Ship In :
3-5 working days
Warranty :
3 years
Questions? We can help
+6016 343 1031
Or Whatsapp us
MON–FRI: 8AM–6PM UTC+08:00
SAT: 9AM–5PM UTC+08:00
---
Multistage Activated Carbon Filter
Neodymium Magnet
Ceramic Cartridge
Instruction Manuals
Natural Hot Spring Ingredients and Minerals



It is a model for bathrooms. It regulates tap water into the mineral ion water and gets rid of chlorine. Regulated water like this has relaxing effects similar to the water in a thermal spa. Water hydrates the skin better and gives your hair shine. It is invaluable for people with skin problems and sensitive skin.
The adjusted water like this helps with problems such as dry skin, eczemas, muscle stiffness, rheumatism, haemorrhoids, low blood circulation, chilblains, bruises and sprains, exhaustion, back pain and insomnia.
Anespa prepares you a salutary bath in mineral ion water at home. Such water is healthy, hydrates better and has relaxing effects similar to the famous Japanese bath Futamata.
Anespe filter firstly cleans the water. It removes water from chlorine, harmful substances such as trihalomethanes, phenols, sediments, odour, tastes and organic waste. Then the magnet divides the water into smaller clusters that make skin hydration easier. The water turns into slightly alkaline and gains relaxing effects by another filtration through the healing mineral stones.
ANESPA allows you to experience the health benefits and relaxing effect of Japan's famous hot springs every day from your own shower!
ANESPA filters out contaminants like chlorine, forms micro-clusters in the water and then adds a blend of natural hot spring ingredients and minerals into your shower, resulting in water that's free of harmful impurities yet rich in natural hot spring ingredients – to protect your skin as you relax in your shower!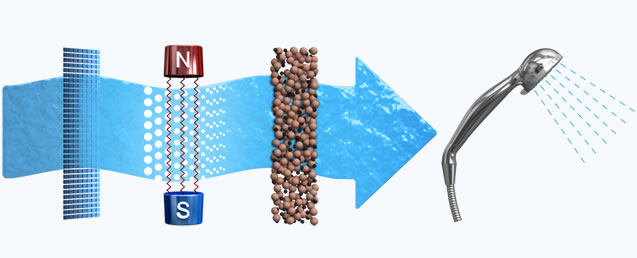 1. External Filter
The first task is to filter out harmful components of the water: chlorine, trihalomethanes, phenols, sediment, odor, taste, and organic waste.
Enagic's water makers achieve this by the use of a multistage activated carbon filter containing antibacterial granular activated carbon and Calcium Sulfite.
2. Neodymium magnet
This high quality magnet can decompose the water molecules into smaller clusters to activate the water and change the water to slightly stimulated water. At the same time, it helps the water to better absorb minerals.
3. Ceramic cartridge
The cartridge has a layer of ceramic filling. The layer of ceramic filling is about 3 times thicker than other products on the market. Ceramic balls of both Futumata Radium Hot spring and Chikutan are comfortably filled in a single cartridge.
4. Relaxing water
The ANESPA creates abundant flow of hot water; 15 liters per minute (~4 gallons/minute). The massaging shower head adds to the relaxing effect.
Specification
| | |
| --- | --- |
| Model name / number | Anespa / ANSP-01 |
| Water source connection | Water supply plug closed type |
| System | Mineral ion water activator |
| Production rate (gallon(s)/minute) | 2.6-4.0 |
| Protector | Water Limiter |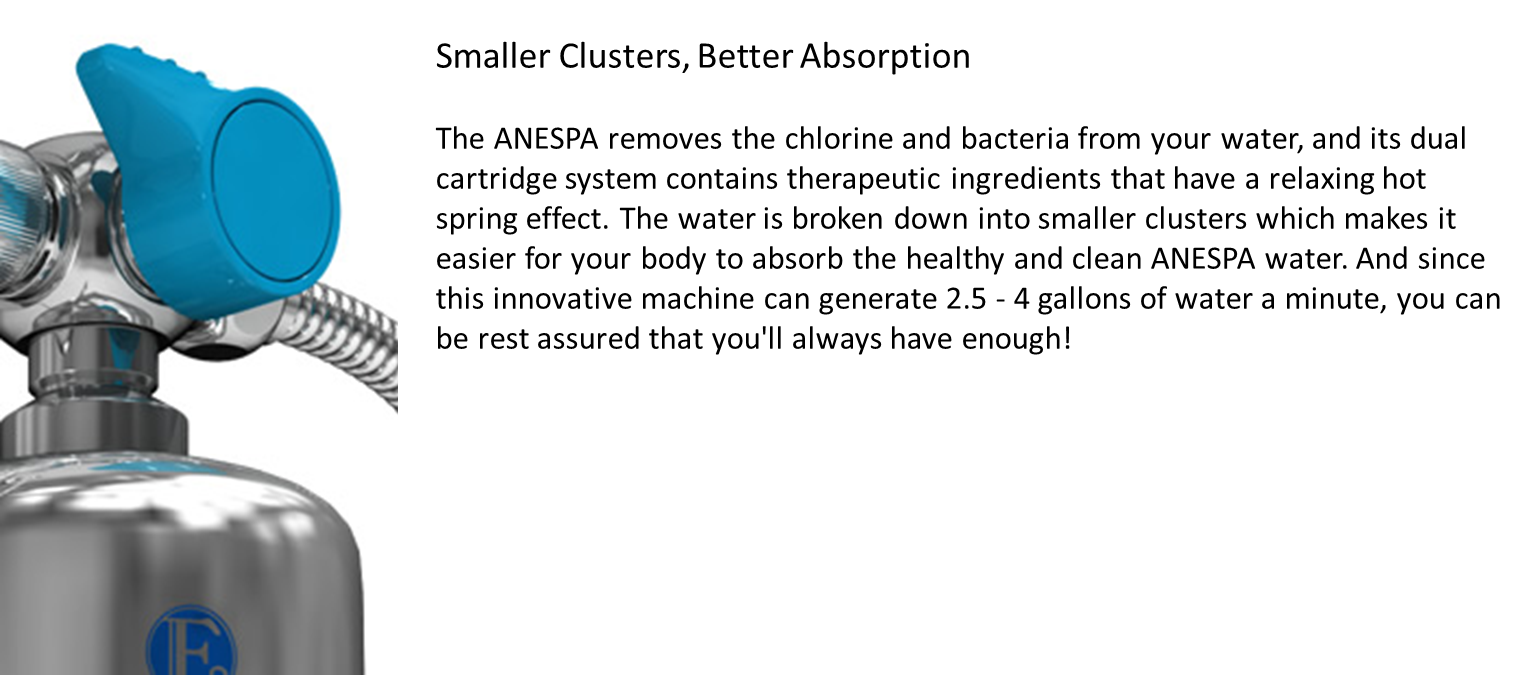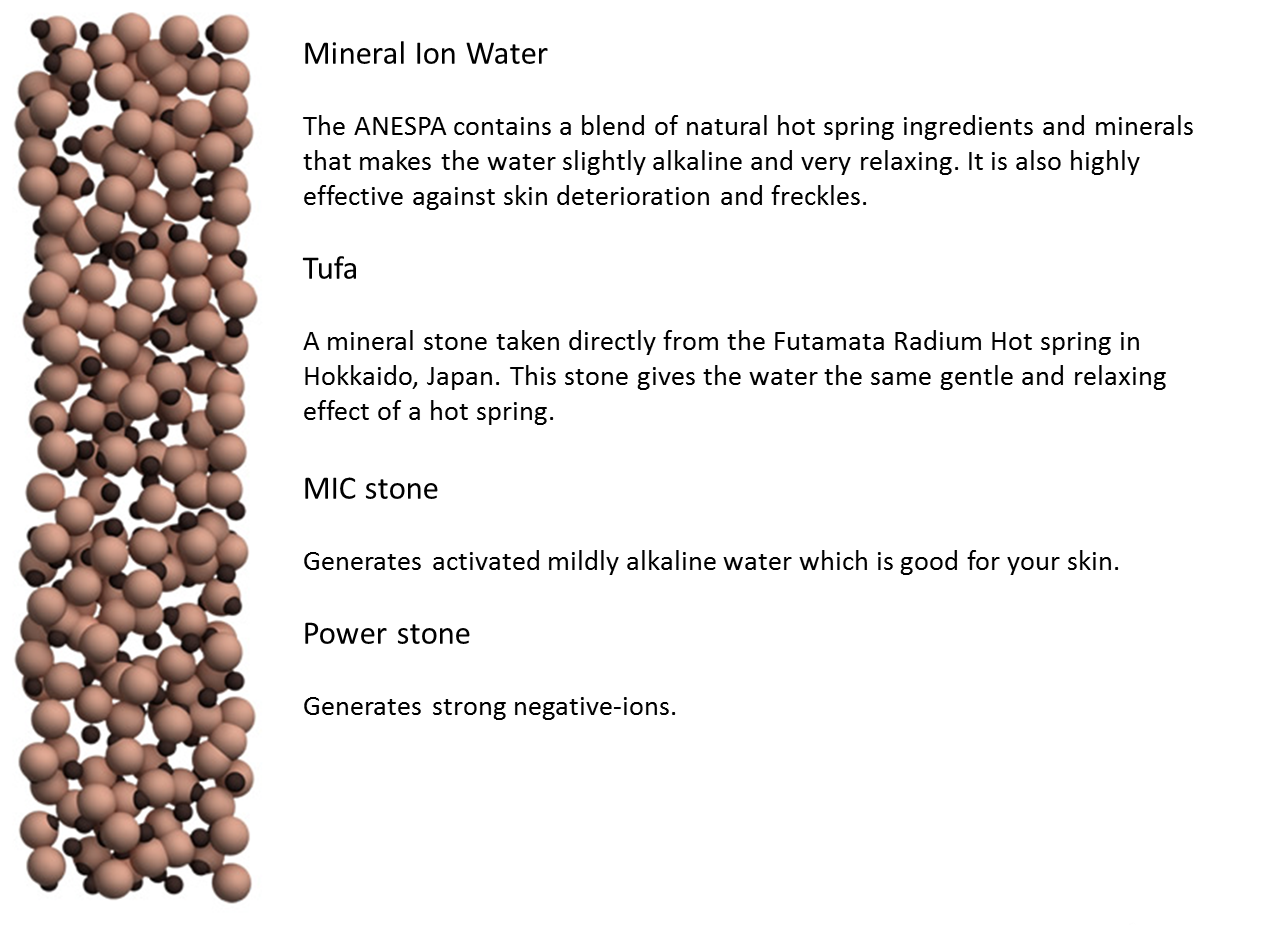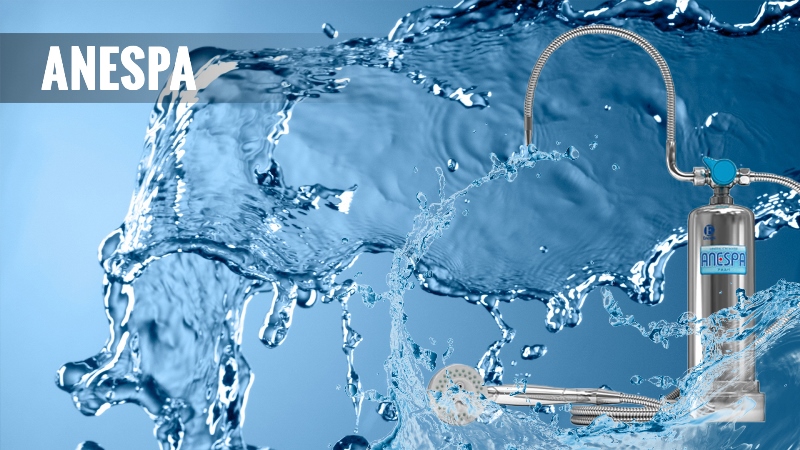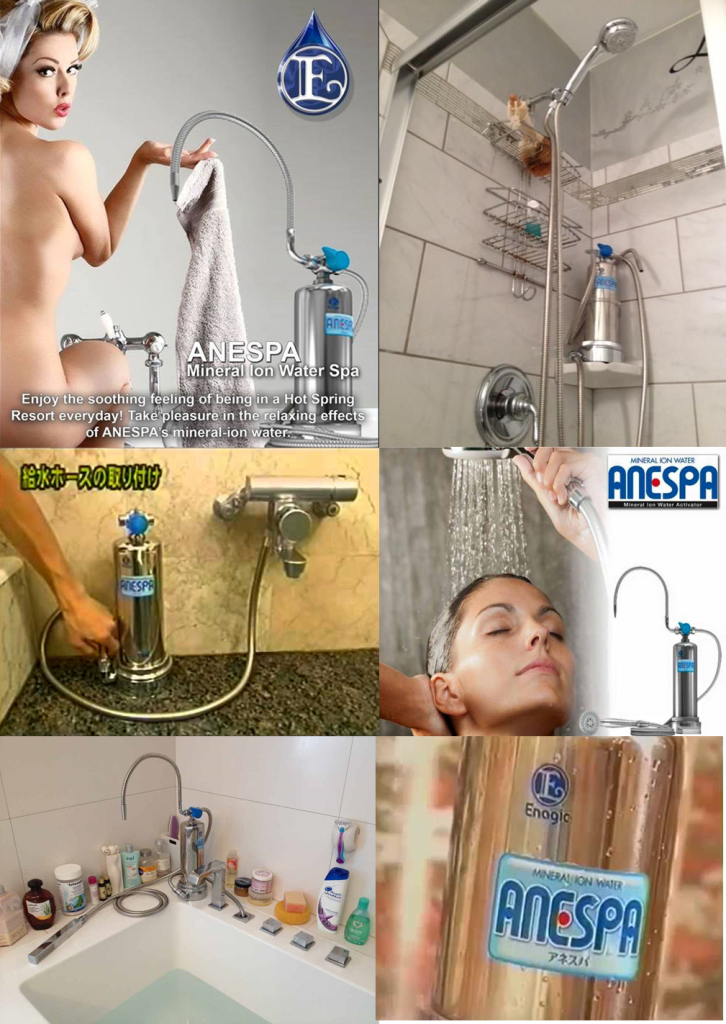 Available Date : 17/1/2017