3-WF-5/AKL/GOLD Alkaline Water Filter System
RM 699.00
RM 599.00
---
Brand:
Taiwan
Quality water for your every kitchen need. Drinking, Rinsing, Cooking. Water Purifiers & Filters

Ship In :
3-5 working days
Warranty :
1 Years
Free Delivery
Free Installation (Klang Valley)
Questions? We can help
+6016 343 1031
Or Whatsapp us
MON–FRI: 8AM–6PM UTC+08:00
SAT: 9AM–5PM UTC+08:00
---
New Design New Manufactured New Item
Fully Imported from TAIWAN
Aluminium Plated Gold Color Front Panel
Stainless Steel Clean Water Faucet
Filters Maintenance only every 2 years (Maximum)
Dimension ( WxDxH ) : 12 x 12 x 4 Inch
No Electricity
Direct Water Pipe In
True ABS Body
Alkaline PH 9. 0+
Net Weight: 5 kg
Gross Weight: 8 kg
1 Year Warranty
Why drink Alkaline Water?
Improve your health, supercharge your immune system and fight the aging process with antioxidant-rich alkaline water. Toxins are the number one cause of aging. They are often a result of poor diet, pollution and stress. Toxins can build up in your body causing cell damage that leads to premature aging. The best way to fight toxins and detoxify your body is with antioxidants. And its as easy as drinking antioxidant-rich alkaline water.
Filter 1 - Remington Ceramic Filter Washable
Filter 2 - Kemflo Sediment Filter
To remove infusible particles such as dust, rust& mud from feed water
Filter 3 - Kemflo Pre Carbon Filter
to remove residual chlorine, pigment , odor & coloring that harmful to human body
Filter 4 - Kemflo Activated Carbon Filter
to remove residual chlorine, pigments, odor and coloring that harmful to human body
Filter 5 - Kemflo Silver Activated Carbon Filter
to enhance the taste of water
Filter 6 - Kemflo Alkaline Filter
to convert the pH of the water from neutral to alkaline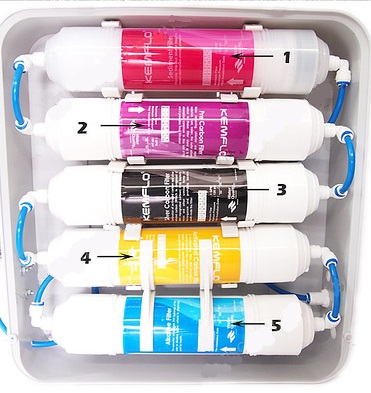 Available Date : 1/12/2016