3 Units x British Portacel 10" Standard Ceramic Filter Candle
RM 96.00
RM 75.00
---
The standard size ceramic candle suitable to use in most standard ceramic water filter. 3 unit in the box
Ship In :
3-5 working days
Free Delivery
Questions? We can help
+6016 343 1031
Or Whatsapp us
MON–FRI: 8AM–6PM UTC+08:00
SAT: 9AM–5PM UTC+08:00
---
British Portacel Standard Ceramic have long life-be able to repeat scrubbing the filter, also can prevention of bacteria's further growth.British Portacel Standard Ceramic also can remove up to 99% impurities such as Bilharzia,Amoeba,Typhoid,Cholera.
Dimension : 2 inches/50mm and standard lengths-10 inches/254mm
Long Mount Size : 36mm
Quality Control : British Portacel Standard ceramic filter candles are manufactured in accordance with ISO 9001:2008 quality assurance procedures which ensures highly consistent product quality with full batch trace ability in operation.
Independent quality control approval such as the NSF International standard 42 and 53,and WARS approval ensures the product performance claims are verified to the highest level.
The ceramic filter with 0.2-0.5 micron hole diameter can efficiently filter out any matter with the diameter larger than its hole diameter including bacteria,slit,suspension in water,cystobacter,pathogen,and virus.
Filter up to 0.5 micron
Have long life-be able to repeat scrubbing the filter
Prevention of bacteria's further growth
Removes up to 99% impurities such as , Bilharzia, Amoeba, Typhoid & Cholera
What's in the box
3 unit x British Portacel 10" Long Mount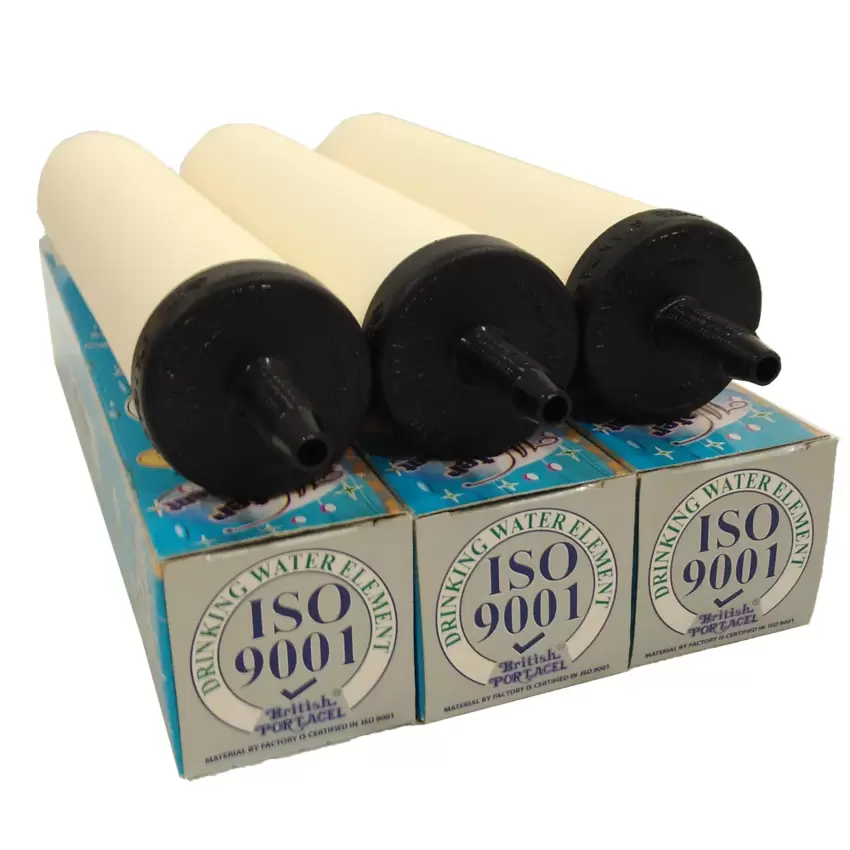 Available Date : 26/12/2016