10" Double Water Filtration System (Clear)
RM 108.00
RM 88.00
---
Simple Kitchen Water Filter System. To be installed in kitchen and attached to the water tap. Double stage water filtration system.
Ship In :
3-5 working days
Questions? We can help
+6016 343 1031
Or Whatsapp us
MON–FRI: 8AM–6PM UTC+08:00
SAT: 9AM–5PM UTC+08:00
---
Water directly from the pipe is considered to be less and less safe to be drunk directly from the pipe. Even after boiling the water, it is still considered to be unsafe to drink the water as there would still be some minute dirt that you cannot boil away. Boiling only works on bacteria to kill them off. So to rid you of all your drinking water related worries, Global has come up with the perfect solution – the Global Double Water Filter.
The Global Double Water Filter is a water filtration system that is super easy to use. There is no fancy installation involved at all. All you have to do is just install it on your piping system that goes to the pipe in the kitchen where you take water out from and you are good to go. You can enjoy safe and cool water instantly with the Global Double Water Filter.
The Global Double Water Filter is a filter full of features. It is a double cartridge water filter meaning it provides extra layer of protection for your water. The polypropylene fibre cartridge and the CTO cartridge inside the filter function to effectively clean the water that passes through the filter.
The Global Double Water Filter's simple design will fit well in your kitchen. The blue see-through casing allows you to know when to change the cartridge after it becomes too dirty. Furthermore, the see-through feature also means you can be sure whether your filter is really working or not.
10" Double Water Filtration System - Clear with 2 Stages Water Filter
Filter 1
PP Sediment Filter (optional change: ceramic OBE)
The filter is made of Polypropylene with its to reduce sand, silt, scare rest and iron particles.
Should be replaced 3 to 4 times annually, depending on your water condition.
Fine filtration (5 micron)
Filter 2
CTO Carbon Block Filter
Carbon block filter for the removal of chlorine, taste, odor and other chemicals contaminants.
Fine Filtration (5 micron)
Tip to use: Each time you use water from your filtered tap for drinking or cooking purpose, it is recommended that you should run (flush) the tap for least 10 seconds prior to using water. This is particularly important if the water up has been used daily.
The Double Filter suitable with the filter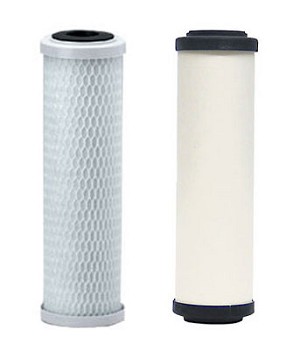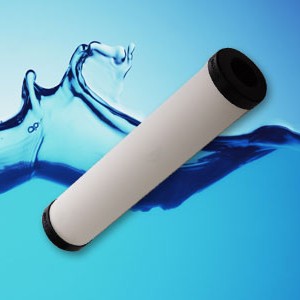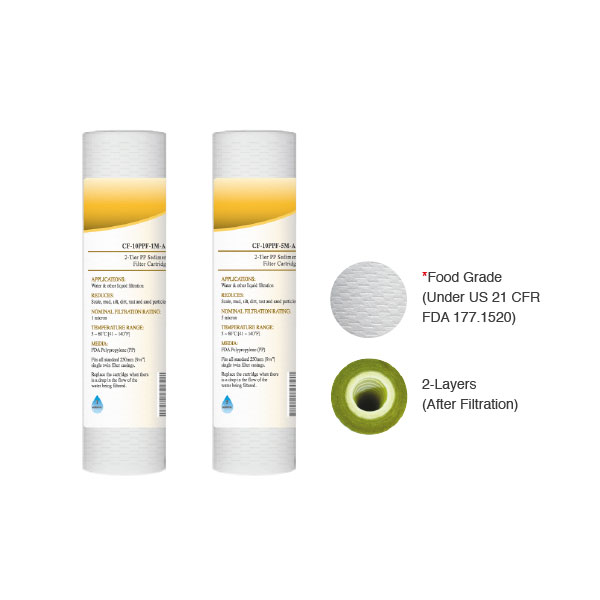 Available Date : 23/11/2016